This post is also available in: Español
I was waking up with muscle cramps every night. I really needed more energy to keep up with the kids, home office, pets, husband, house… I started drinking these detox smoothies for a whole week because I was too stressed out as my nanny left and did not how I was going to be able to go ahead with so mucho over my shoulders.​​​​​​​​​​​​​​
and, yes. Having too many cheese sticks and Diet Pepsi for emotional eating, and stress, had consequences and there I was SUPER BLOATED and having cramps during my sleep. I started with the celery papaya juice to try to reduce inflammation and it started to work.​​​​​​​
I continued and the swollen was little by little going away. My digestions were amazing and the best part I was full of energy. Now, I do not start my day without one of these detox smoothies. They really have changed my life for good and I am totally loyal to them even on Saturdays and Sundays.
DETOX SMOOTHIE FOR CONSTIPATION
The most miraculous part of these natural smoothies is hat they do not only help with digestion. They are a shot of vitamins and minerals that will help you to improve your health and strengthen the immune system.​​​​​​​
The first smoothie, the one for Monday is high in fiber and is awesome for cleaning the colon. The papaya is great to fight constipation. It is a natural laxative as well as the celery and the flaxseed.
CONSTIPATION SMOOTHIE, PAPAYA, FLAXSEED AND CELERY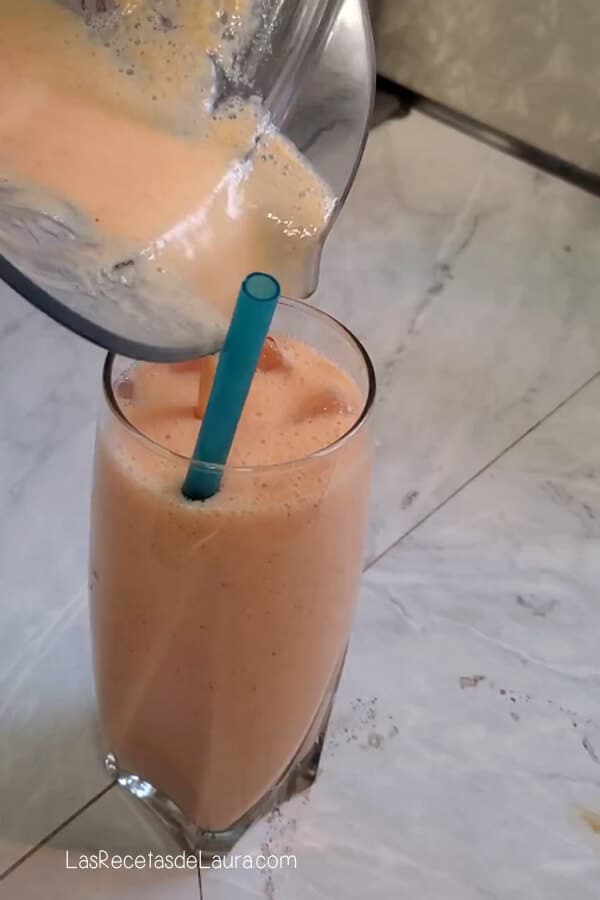 INGREDIENTS FOR A NATURAL LAXATIVE
1 cup papaya
1 stick of celery
1 teaspoon of flaxseed
1 ½ cups of water
Blend all the ingredients together. If you want you can add a few cubs of ice. This smoothie is super fresh and delicious. The best part get ready because most probably you will be in the bathroom in less than half an hour.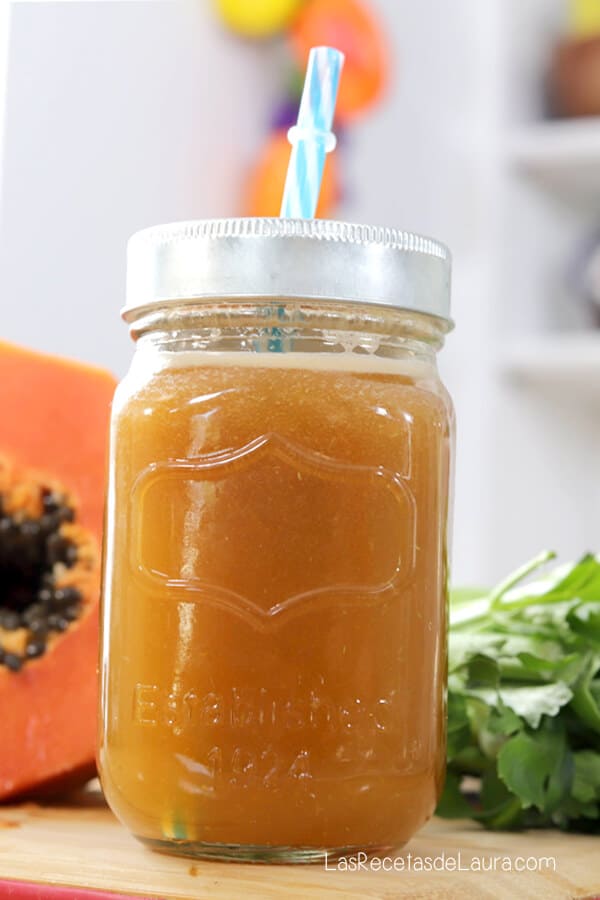 TUESDAY
GREEN DETOX JUICE TO OXYGEN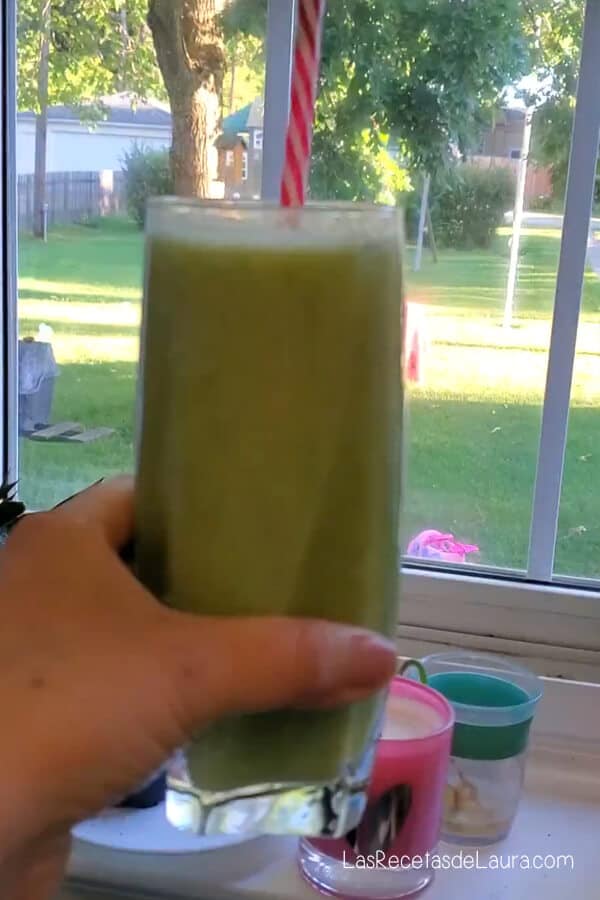 Spinach is full of nutrients. They are high in vitamin A, C, and K and folic acid as well as calcium and iron. Most of this is related to bone health so it is a great smoothie for postmenopausal women as well as pregnant women.
This smoothie is also good to prevent gastritis pain.
Ginger also helps to oxygenate and detoxify your body, is it an excellent diuretic!
INGREDIENTS FOR A DETOX SMOOTHIE WITH SPINACH
1 cup of spinach
1 pear
1 small piece of ginger
½ spoon of flaxseed
1 ½ cups of water
Blend all together untill pulvorize
WEDNESDAY
SMOOTHIE TO PREVENT MUSCLE CRAMPS
I woke up screaming one night of the pain in my leg. It was an awful muscle cramp. I had them for about a week. I was having multivitamins but it was not enough. This and bloating were the main reasons I started having the smoothies every morning.
INGREDIENTS​​​​​​​
1 Carrot
1 tomato
1 celery stick
½ lemon
1 ½ cups of water
You can add a few ice cubs and blend them too. This is super fresh.
THURSDAY
SMOOTHIE TO DE-BLOTE THE BODY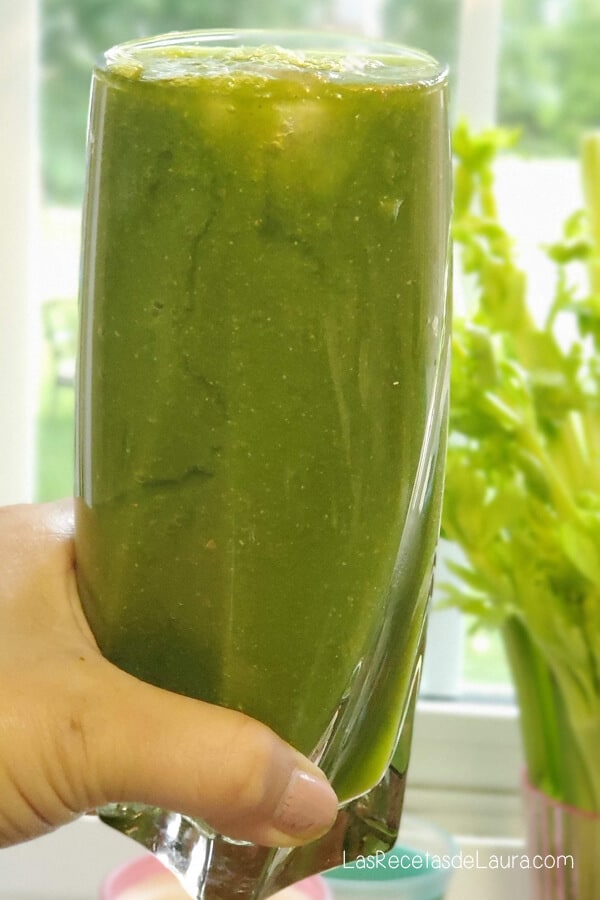 This green juice has super effective anti-inflammatory and diuretic properties. It helps you in case you are retaining liquids in addition to providing fiber and vitamins. It taste delicious and it really is a shot of vitamins for your body.
1 apple
¼ cucumber
1 small piece of ginger
1 celery stick
1 ½ cups of water
1 teaspoon of flaxseed
Blend everything until pulvoriza
FRIDAY
SMOOTHIE FOR CONSTIPATION AND GUT FLORA GUARDIAN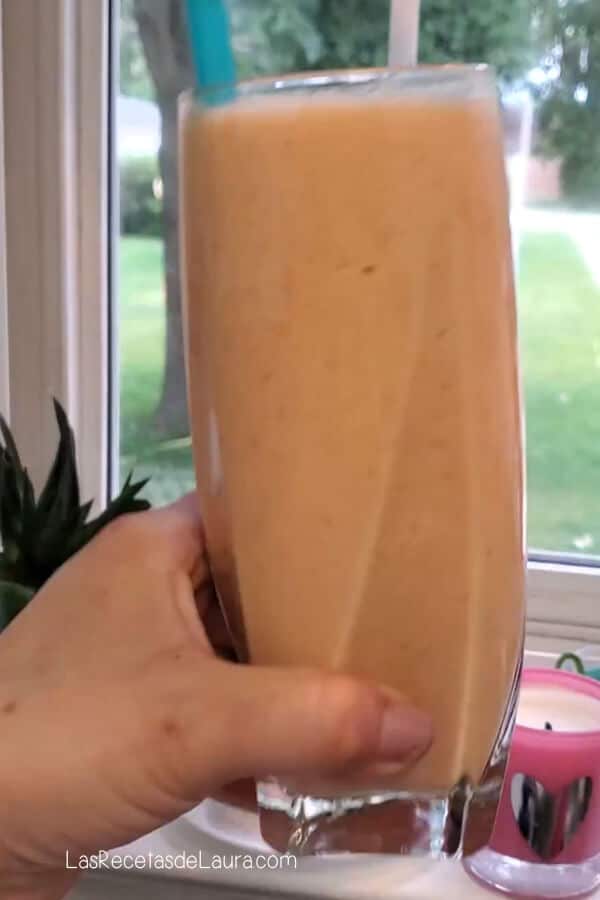 This is great for kids for the delicious and soft flavor. Add some ices when blending and it will just taste like an out of the freezer icecream
1 cup of papaya
½ natural yogurt (can be Greek)
½ flaxseed
1 cup of water
½ cup of ice
Blend all together until pulverize
WHEN AND HOW TO DRINK SMOOTHIES
These special smoothies for constipation, detox, oxygen, vitamins, minerals, potassium have to be taken first thing in the morning.​​​​​​​​​​​​​​​​​​​​​
It is important to have these smoothies with an empty stomach. First thing i do when I wake up is to be grateful to God for a new day and right after I run to the kitchen make the smoothie of the day and then I take a shower, get ready for work, make breakfast and then eat.
You need to leave between 15 to 20 minutes after having the smoothie to eat something That way you give enough time to digestion and intestine to start the process and separate the nutrients and make that extra fiber work before other food come the get in the middle of the process.
SMOOTHIS FOR SATURDAY AND SUNDAY​​​​​​​
Nopal cactus and pineapple
Prune and Flaxseed juice
Follow me on Instagram I always share my smoothie of the day at my stories at 6 am!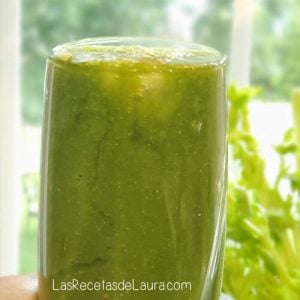 Ingredients
Monday: Papaya smoothie
1

cup of

papaya

1

stick of

celery

1

tsp of

flaxseed

1 ½

cup of

water
Tuesday: Green juice
1

cup of

spinach

1

pear

1

small piece of

ginger

½

tbsp of

flaxseed

1 ½

cup of

water
Wednesday: Carrot Juice
1

carrot

1

tomato

1

celery stick

½

lemon

1 ½

cups of

water
Thursday: cucumber juice with ginger
1

apple

¼

cucumber

1

small piece of

ginger

1

celery stick

1 ½

cups of

water

1

tsp of

flaxseed
Friday: Smoothie for constipation
1

cup of

papaya

½

natural yogurt

can be greek yogurt

½

tbsp of

flaxseed

1

cup of

water

½

cup of

ice
Instructions
Blend all together until pulverize
Latest posts by Laura Muller
(see all)