Spanakopita is the first thing I ask for when I arrive at a Greek restaurant. I decided that I wanted some of my fave Greek pie but had no ricotta at home so I decided to experiment and sustitute with cream cheese. So I made this Spinash pie with cream cheese and fetta cheese. Spanakopita is a spinach pie made with phyllo dough. Phyllo dough is crispy and thin, similar to puff pastry we call it pasta de hojaldre in Spanish. ​​​​​​​​​​​​​​
The filling of Spanakopita is creamy with a slightly citric touch that gives feta cheese as distinguished by Greek food. It is also known as spinach tart with ricotta cheese.
The spinach egg tart is easy to make and will definitely become one of your favorite delights. I am going to give you several options of ingredients so you can prepare it in the country where you live. The truth is, I didn't know about phyllo dough until I tried Greek food, but there are other dough options you can use to make this spinach pie.
INGREDIENTS FOR SPINACH CAKE
8 cups spinach
1 cup ricotta, or 1 package of cream cheese
1 cup of feta cheese
1/2 Cup of olive oil
1 cup chopped onion
1 tsp minced garlic
1 tsp ground pepper
2 tsp dill
5 eggs
Phyllo Dough, ready-to-eat dough or puff pastry
INGREDIENT SUBSTITUTES FOR PREPARING SPANAKOPITA
Spanakopita style spinach pie crust uses puff pastry or phyllo dough. The truth is that the filling of this spinach tart is so delicious that you can buy one of those Pillsbury ready-to-eat doughs and it still will be delicious.
For cheese you definitely need feta cheese, it is what gives most of the flavor. It complements with ricotta cheese which flavor is pretty soft and neutral. I did not have ricotta it so I made it with cream cheese and it was fantastic.
HOW TO PREPARE STEP BY STEP PAY OF SPINACH WITH CHEESE AND EGGS
Put the spinach to cook in a little water. Very little water, like 1 finger of water in the pot and over medium heat under the lid and let them cook.
Beat the eggs
In a bowl, mix the eggs with the onion, pepper, salt, garlic, feta cheese and ricotta or ricotta, dill and 1/4 cup of the olive oil (if you use cream cheese for this recipe, when you drain the the spinach takes advantage of the fact that they are hot to melt the cream cheese there and then mix that with the rest of the ingredients)
Let the spinach cool a little longer when cooked. Remove the water you have if you have it and then mix with the rest of the ingredients.
For the base we will need to add sheet by sheet the phyllo dough. After each layer, spray the sheet with a little olive oil with a brush or you can use oil spray. Layer about six layers of phyllo dough. On the sides place phyllo sheets that you can corrugate a little with your hands as shown in the photo and varnish with the oil. Fill with the spinach mixture and repeat the process from layer to layer of phyllo dough on top. Once ready it is necessary to cut into slices before putting them in the oven. Once baked the phyllo dough will flake if you try to cut already baked.
If you are using pay dough just place a little olive oil on the base so that it does not stick and fill with the spinach mixture.
Place the pie in the oven at 360f for 45 minutes. Keep on checking that the dough turns golden brown and with a knife you can verify that it is ready when it no longer comes out liquid from the middle.
FANCY RECIPES FOR PARTIES
This recipe is to show off at any meeting. It is a real delicacy. Feta cheese gives a wonderful citrus touch and the crunch of the dough with each bite is a love song. This spinach pie recipe can be eaten both hot and cold. I like to accompany it with an arugula salad with baby spinach and cherry tomatoes with a balsamic dressing.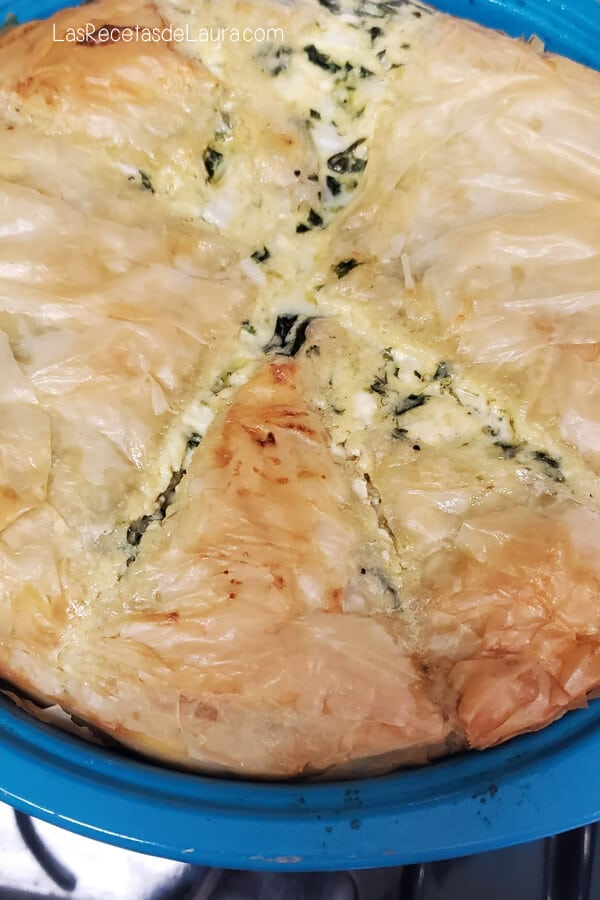 What about some Mexican Barbacoa for lunch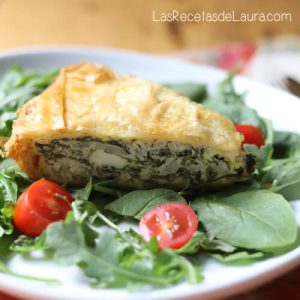 Ingredients
8

tazas de

espinacas

1

taza de

requesón

o ricotta o queso crema

1

taza de

queso feta

1/2

taza de

aceite de oliva

1

taza de

cebolla

picada

1

cdta de

ajo

picado

1

cdta de

pimienta

molida

2

cdtas de

eneldo

5

huevos

Phyllo Dough

masa para pay o pasta de hojaldre
Instructions
Coloca las espinacas a cocinar en un poco de agua. Muy poca agua, como 1 dedo de agua en la olla y a fuego medio bajo tapa y dejalas cocinar.

En un recipiente mezcla los huevos con la cebolla, la pimienta, sal, ajo, el queso feta y requesón o ricotta, eneldo y 1/4 de taza del aceite de oliva (si utilizas queso crema para esta receta, cuando drenes el agua de las espinacas aprovecha que están calientes para derretir ahí el queso crema y depués mezclar eso con el resto de los ingredientes)

Deja que las espinacas se enfríen un poco ya cuando estén cocidas. Retira el agua que tenga en caso de tener y después mezcla con el resto de los ingredientes.

Instrucciones con Phyllo Dough hoja por hoja sobre el molde para pay. Tras cada capa rocía la hoja con un poco de aceite de oliva con una brocha o puedes utilizar aceite en spray. Coloca unas seis capas de phyllo dough. En los lados coloca hojas de phyllo que puedas corrugar un poco con tus manos como lo muestra la foto y barniza con el aceite. Rellena con la mezcla de espinacas y repite el proceso de capa tras capa de masa de phyllo en la parte superior. Una vez listo es necesario que cortes en rebanadas antes de meter al horno. Una vez horneado la masa de phyllo se despedezará si intentas cortar ya horneado.

Si estas utilizando masa para pay solo coloca un poco de aceite de oliva sobre la base para que no se pegue y rellena con la mezcla de las espinacas.

Coloca el pay en el horno a 360f durante 45 minutos. Ve revisando que la masa tome un tono dorado y con un cuchillo puedes verificar que este listo cuando no salga ya líquido.
Video