Today I bring you a perfect smoothie for the summer! a delicious papaya and carrot smoothie for the perfect tan.
This smoothie is super refreshing, ideal for hot days, take it before tanning to get a perfect tan. It will also help you if you have constipation problems or feel bloated
the summer smoothie! flat belly + perfect tan
In addition to an even tan and with the perfect tone, this smoothie is rich in nutrients and fiber, it will help you have more energy and relieve constipation.
It will also help you reduce inflammation of the belly and cleanse the colon.
what ingredients do i need?
1 cup of papaya
1 tomato
1 carrot
Juice of 1 lemon
1 tbsp flaxseed
1.5 cups of water
natural and home remedy for a good tan
The secret of this smoothie is that its ingredients are rich in beta-carotene, a vegetable pigment that will help you have a healthy tan, it is well known for "accelerating tanning" but the most important thing is that it protects your skin against free radicals, it acts as an antioxidant and prevents sunburn. It also helps you tan last longer!
I love to drink it a little before going to sunbathe, it has a super refreshing flavor, you can add a couple of ice cubes and you will see that it will become your favorite drink for this summer.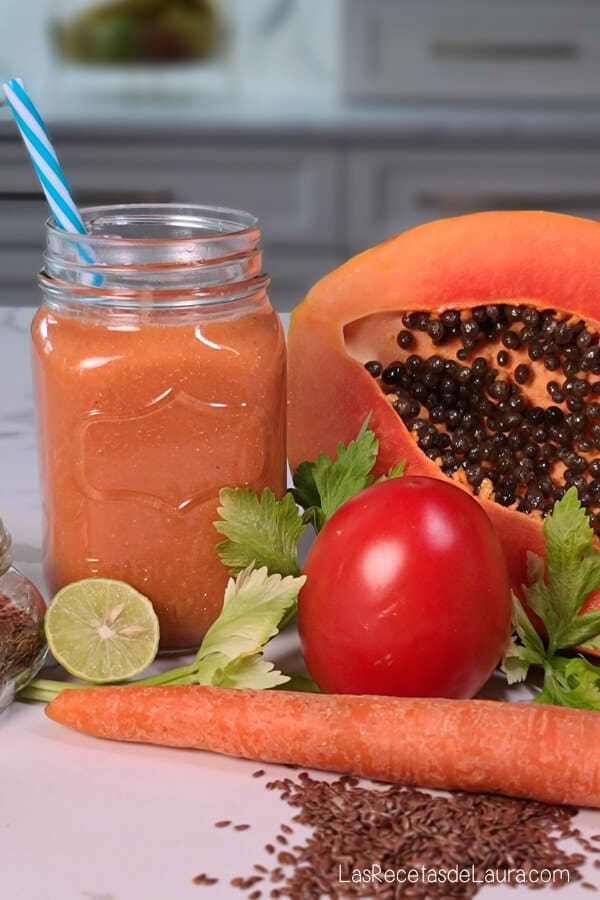 Do not forget that I have more recipes for smoothies ideal to relieve constipation and cleanse the colon:
This Natural colon cleanse smoothie is specially made so you can have a lot of fiber in one shot!
See recipe