Tacos toppings are what make tacos such an amazing treat! From fish tacos to tacos de barbacoa the Authentic Mexican Toppings for tacos will be different according to the taco filling! So get ready to have the best taco topping List for your next taco taco party night!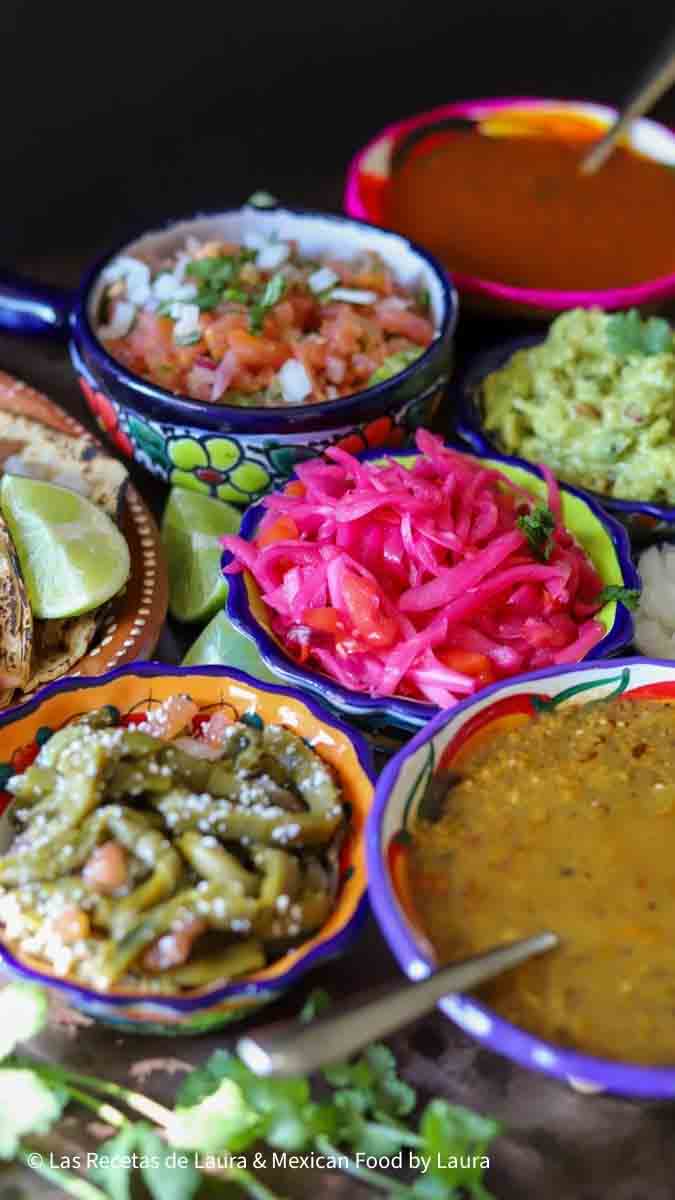 All you need for the BEST TACOS TOPPINGS
Taco Toppings
The classic taco fixing for any kind of taco is always chopped cilantro, onion, hot sauce, and lime. Although any kind of taco will have its special taco toppings. Tacos al Pastor is made with delicious Roasted Pork meat marinated in citrus and achiote. Al Pastor tacos will always have as a topping fixing pineapple, along with onion, cilantro, and hot sauce. Gosh, I am drooling!
I will give you my favorite taco toppings list and then I will going to give you the best taco toppings for each kind of taco! Mexican Food is great, isn't it?
Taco Toppings List
This list of the best tacos fixings is perfect to create your taco bar for the next 5 de Mayo Party or your Mexican night dinner.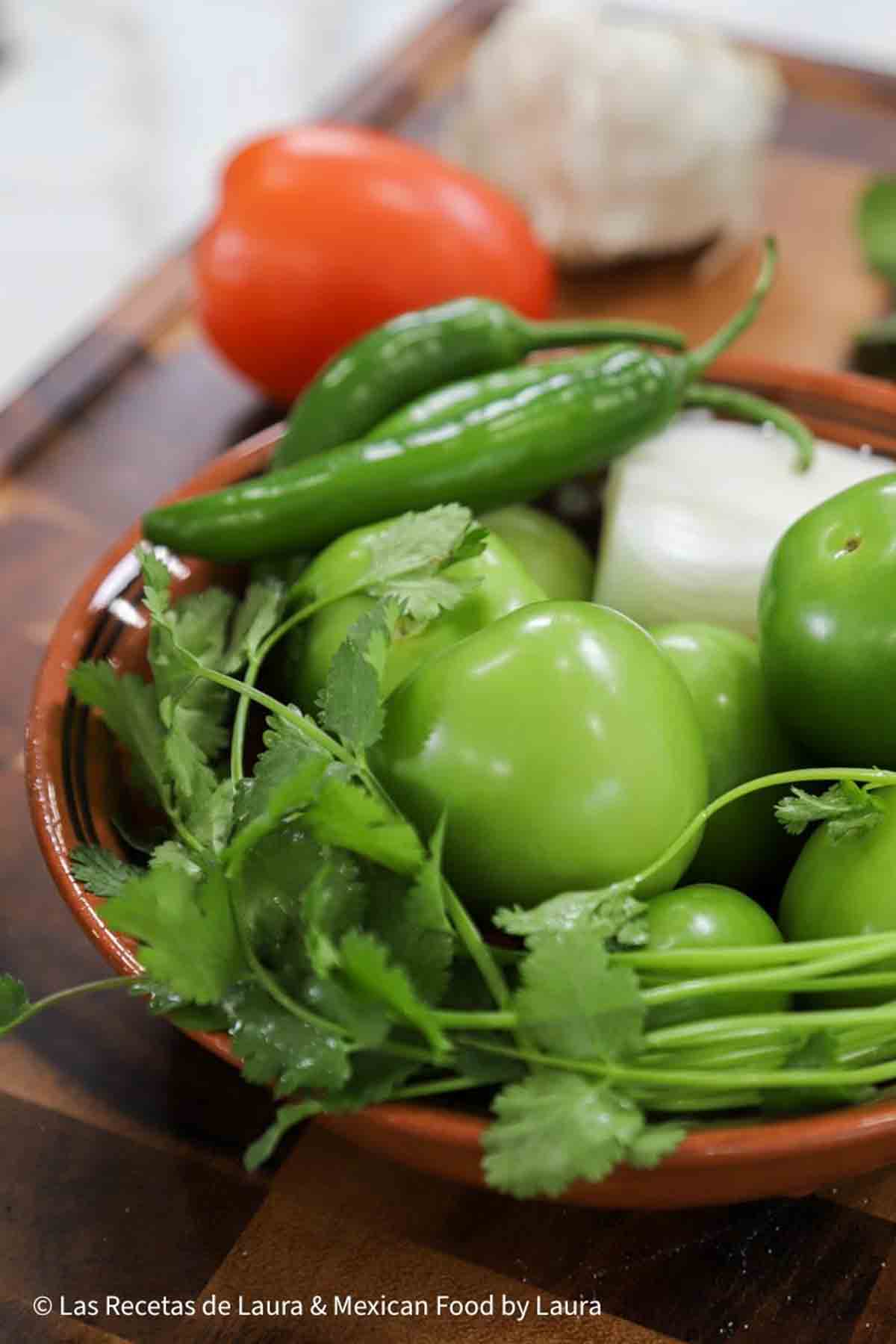 Cilantro: Fresh cilantro is in almost every kind of taco. Rinse the coriander with some water, dry it with a paper towel, and chop it into small pieces.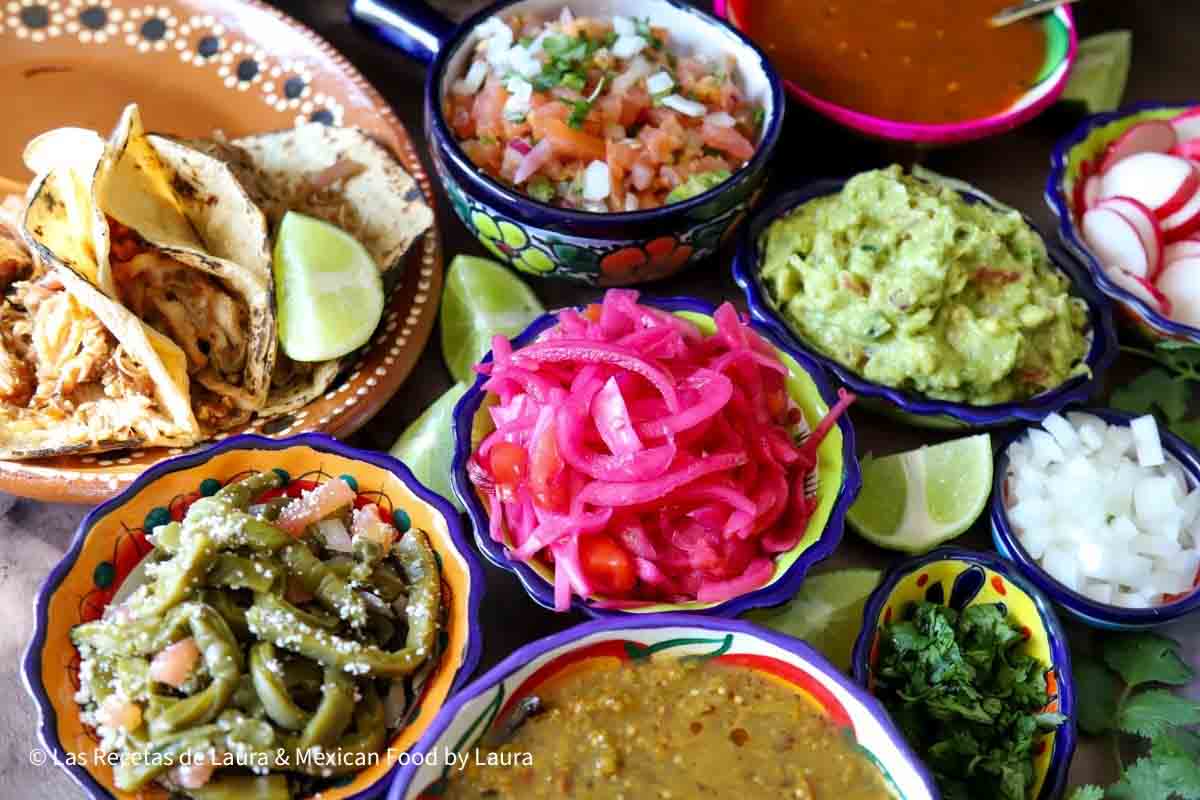 Onion: This is my favorite topping, fresh onion makes any kind of taco special! Most tacos use white onions, but some fish tacos will be better with Mexican pickled red onions. The secret for the perfect taco onion is to chop it into small squares and then place them in a container, cover them with water, and a few pinches of salt. Let it rest for a couple of minutes. Get rid of the water. This will help you to make the onion less spicy (and stinky LOL). Onion is always the perfect topping for any taco.
Mexican Salsas Recipes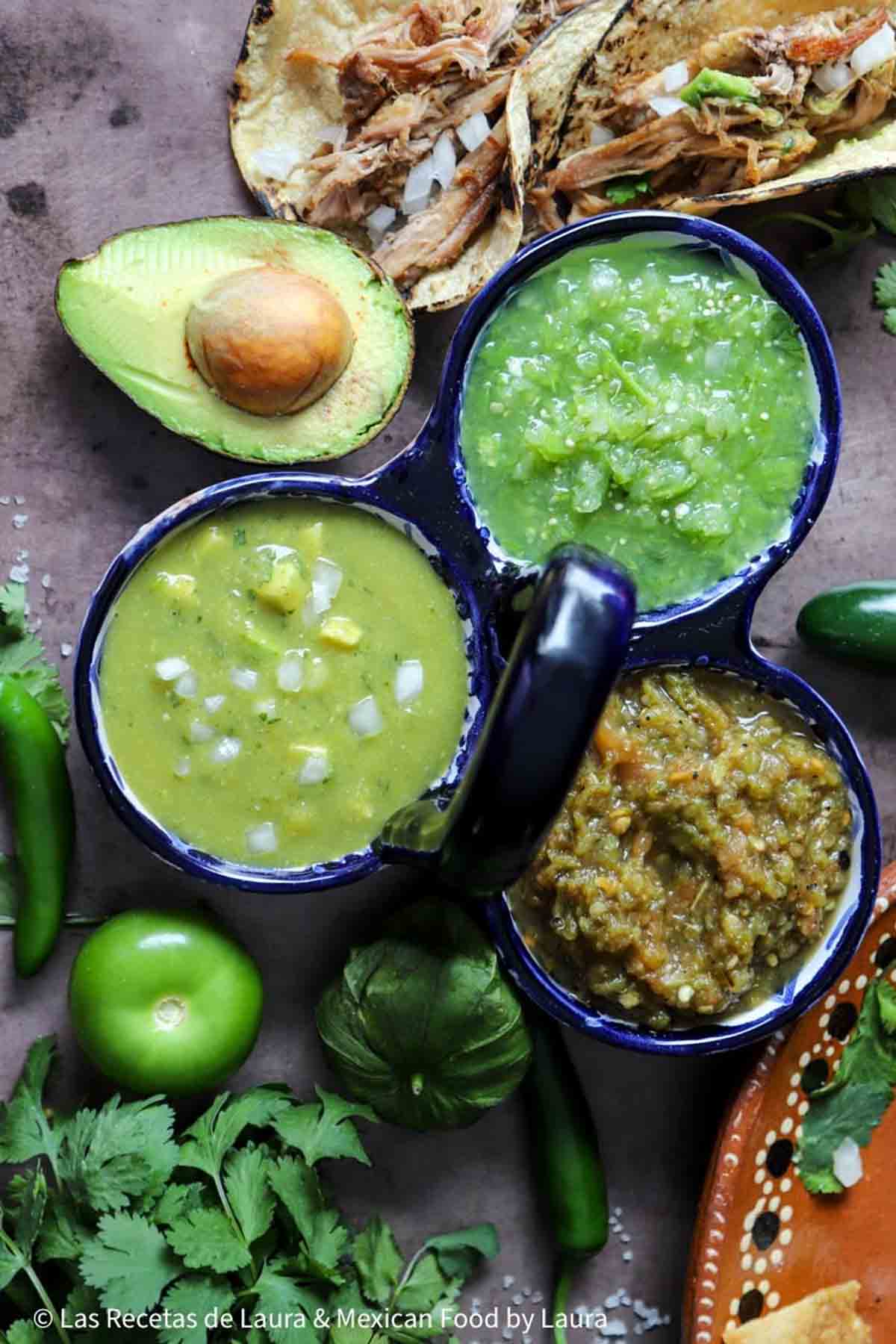 Pico de Gallo: I love Pico de Gallo. Pico de Gallo is a mix of chopped cilantro, onion, tomato, and jalapeno. Some people like to add lime and have seen other people adding garlic. The original Pico de Gallo does not use lime or garlic. Pico de Gallo goes great with any kind of taco or tostada. There is a secret to making the perfect authentic Pico de Gallo and here is the recipe.
Cabbage Salad: Finely shredded cabbage is a very popular taco topping for fish tacos. It goes well with carne asada tacos or even barbacoa. It is also a great way to add some extra fiber to that taco! This Mexican Cabbage Salad will be great for your Taco Night!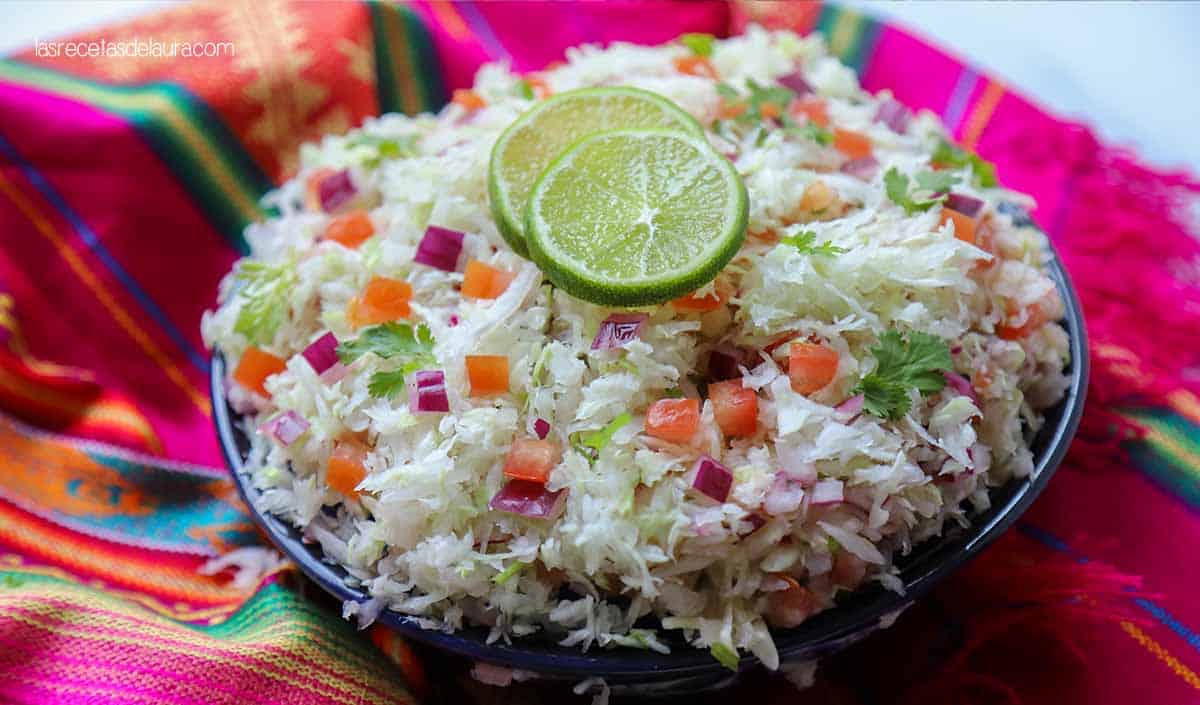 Lime: No matter what kind of taco you are eating TACOS ALWAY HAVE LIME. I could even say that lime is the ultimate taco topping! From Baja tacos to carnitas tacos most people will adore squeezing lime wedges on that taco! Lime juice is a MOST on tacos. Definitely one of my favorite toppings.
Shredded Cheese: Although original Mexican tacos will have melted cheese as a topping you will never see shredded cheese on a Mexican Taco Toppings bar. We use freshly grated cheese without melting on tostadas but never on tacos, tostadas would be the equivalent of what you call shell tacos. Melting cheese! Give it a try! are you making discada, mushroom tacos, or carne asada tacos? When you are finished cooking add some cheese to the top, cover, and let it melt! you will see what a difference is to have those strings of melting cheese coming out of your taco! If you are using fresh or store-bought shredded cheese I will recommend using Queso Chihuahua or the Mexican cheese mix is also good.
Red Onion: Mexico is a big country and every state has its own recipes, even for the same recipe! Red onion is very popular in tacos from the south of Mexico recipes, especially in Yucatán. Like Cochinita Pibil will always have red onion as a topping! Red onion is also very popular as a topping for Fish or shrimp tacos. Slice the red onion and place it in a container filled with water, enough to cover the onion. A great addition is to add a tablespoon of vinegar and a teaspoon of salt. Let it rest in there for 5 minutes and then get rid of the water. This will help you to make the red onion less spicy and add some extra flavor!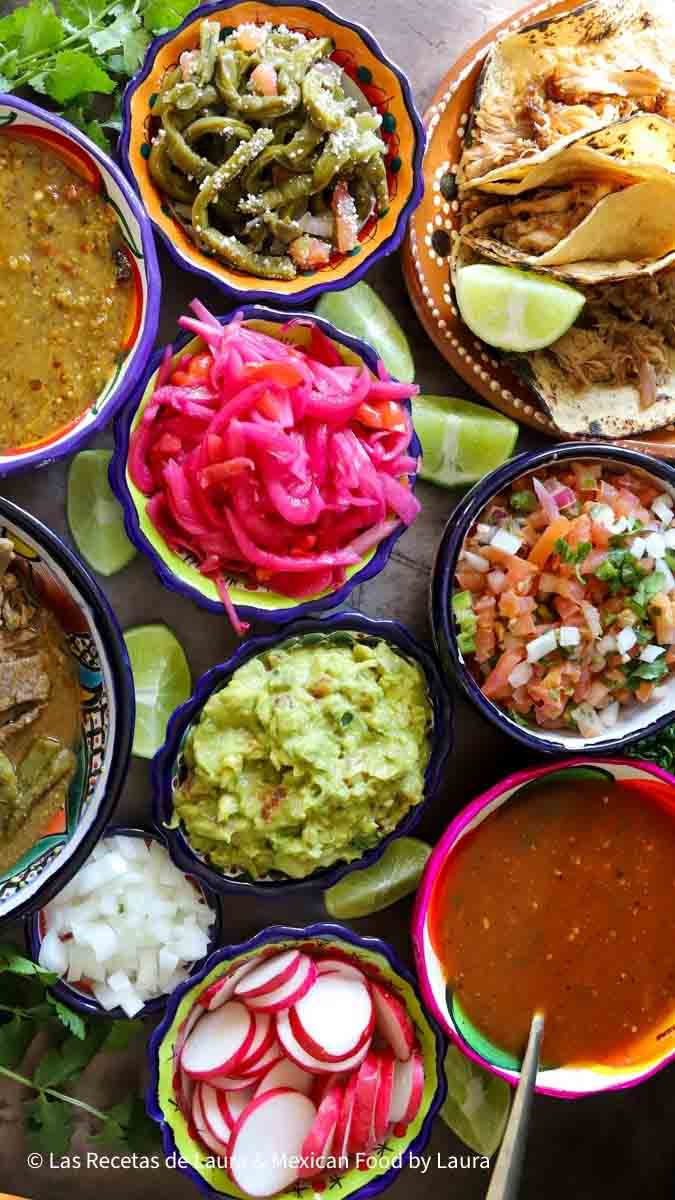 Radish: rabanos is the name for radish in Spanish. Rabanitos as we call them have to be thinly sliced or chopped into small squares. The radish flavor is pretty strong so you do not want to overtake your taco!
Queso Fresco: My husband is from Mexico City and he just adores adding some crumbled queso fresco on top of his carne asada tacos. Queso fresco crumbles very easily, it is a low-fat cheese with a strong flavor. Another option is using cotija cheese if you are looking for a more aged cheese flavor.
Salsa Verde: Salsa verde is usually made with tomatillo, jalapeno or serrano, garlic, onion, and cilantro. There is salsa verde cruda or salsa verde cocida. My husband loves salsa verde cruda. Salsa cruda is just the raw ingredients in the blender! add salt to taste. For cooked salsa verde just roast all the ingredients before blending. Both salsas are amazing. Recipe here!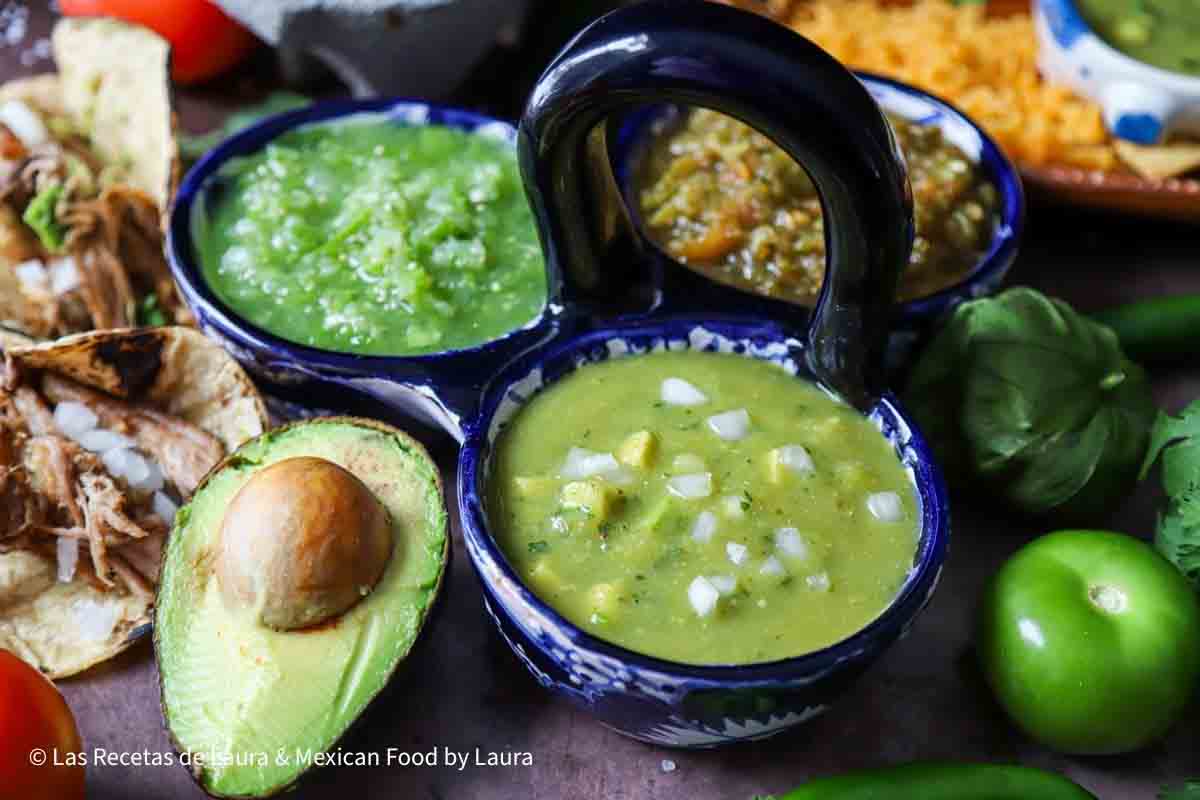 Salsa de Aguacate: This is one of my favorite Mexican cuisine recipes! I just adore avocado salsa. I even use this salsa as a dressing for my salads! check out the recipe here!
Salsa Roja: Salsa Roja or Mexican red hot sauce is usually made with chile de Arbol or you might recognize it as red hot chili pepper. It is spicy! You can work out the spiciness with some tomatoes. Here is the recipe
Sour Cream: Sour cream isn't actually an authentic Mexican topping although it is definitely a delicious topping for tostadas! If you are using taco shells, that is actually more a tostada than a taco! you definitely need to add sour cream or crema Mexicana. I wouldn't recommend adding sour cream to corn tortillas or a soft taco as it will make the tortilla wet and the tacos are going to fall apart.
Guacamole: who doesn't love fresh guacamole? guacamole goes pretty much with all beef and chicken tacos. I wouldn't use it for pork tacos such as Tacos al Pastor or Cochinita Pibil as they are more on the sweet side. It can go well with carnitas. Make the original guacamole recipe!
Avocado: Chopp small pieces of avocado, or some slices and add them as another great taco topping that goes pretty much with any kind of taco!
Chile Toreado: This is a grilled or fried chile that is delicious. It serves as a whole chile and you pretty much give a bite of the toreado and then a bote to your taco. This is only for people who REALLY CAN TAKE SPICY food!
Nopales Salad: nopales salad is great to have on top of any kind of carne asada, arrachera, carnitas or authentic barbacoa! Nopales salad is a great option to serve with tacos for a crowd find the recipe here.
Lettuce: You can chop lettuce really finely and add it on top of the tacos. This is not what we use in Mexico but I have seen it is very popular for burritos and tacos in the USA.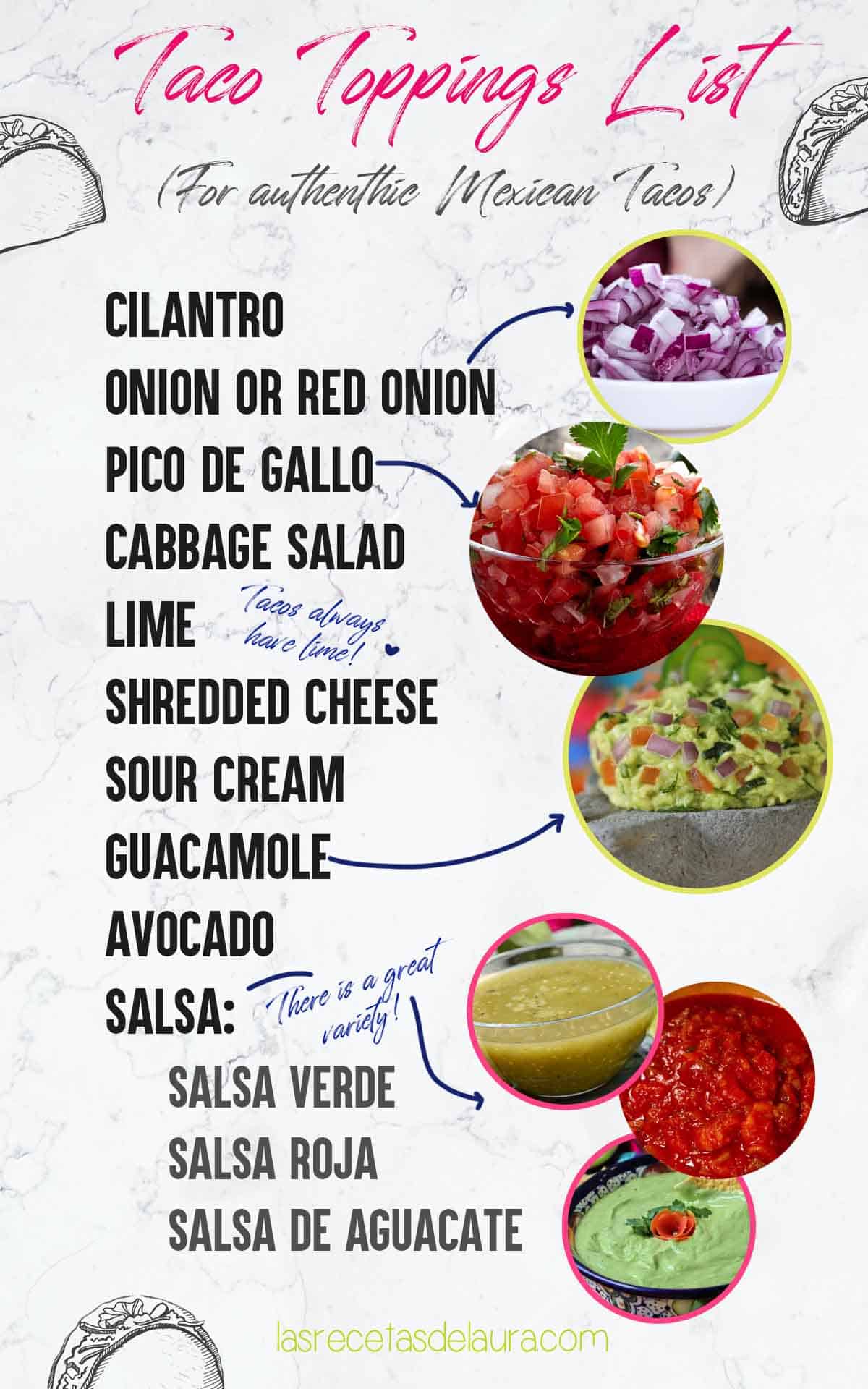 Did you know that salsas are pretty much a very healthy shot? Jalapeno, serrano peppers, and the chiles and spices used for salsas are great sources of vitamin C, they are all made with a mix of vegetables and are super healthy!
You can get natural recently made hot sauces at your nearby Mexican grocery store.
Tacos Toppings by Taco fillings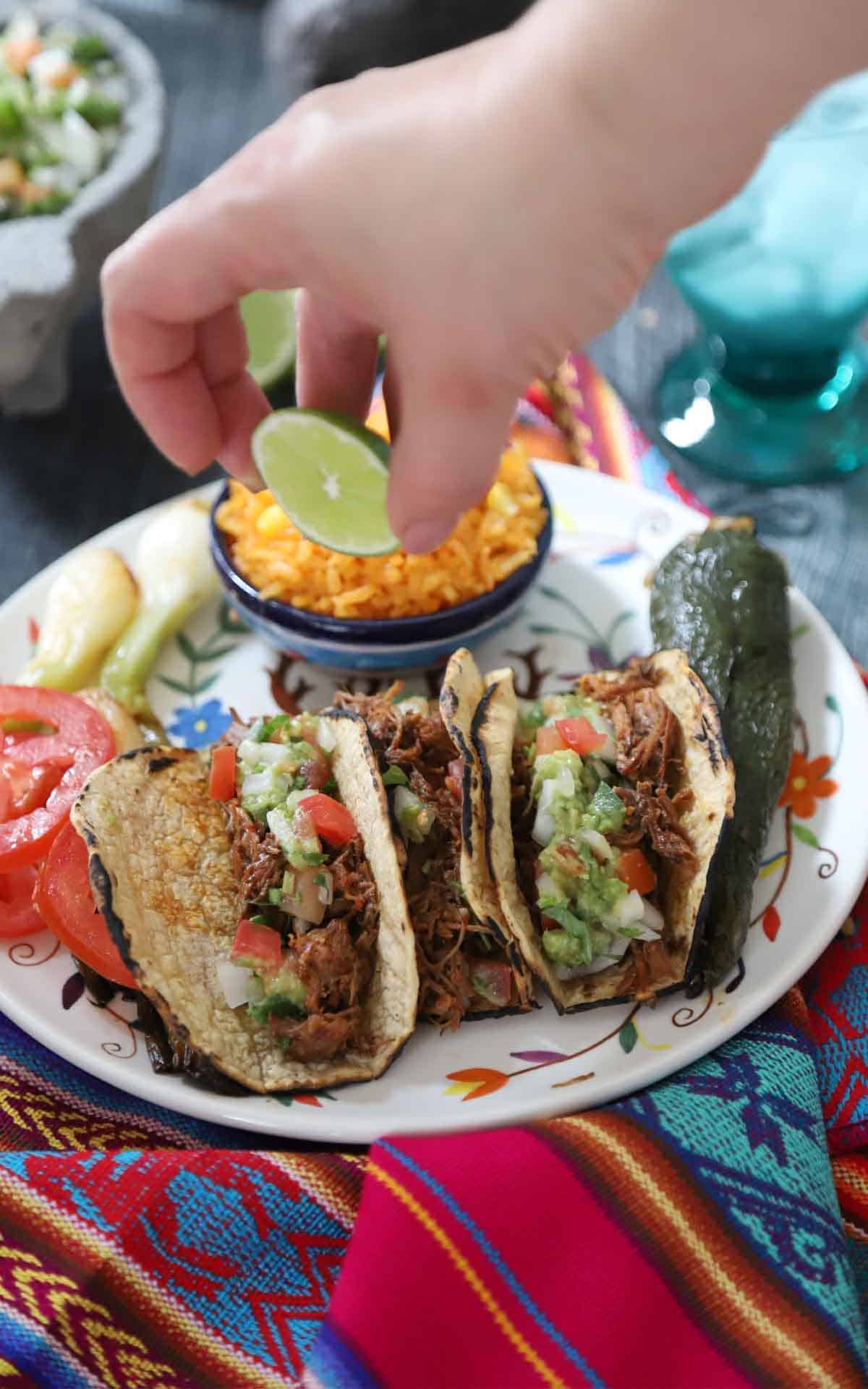 Pescado Tacos: Fish tacos, as well as shrimp tacos, go great with small pieces of pineapple mixed with cilantro and red onion. You can season the mix of veggies with a little vinegar, salt, and oregano, and if you are brave enough add some thin sliced serrano or habanero. You can also use this Mexican Cabbage Salad.
Carne Asada Tacos: Chopped onion, cilantro, lime, and hot salsa and try to add some melting cheese on top. Yuummm! Same for arrachera tacos.
Carnitas Tacos: These are some of my favorite tacos!Chopped onion, cilantro, lime, and hot salsa. I will prefer salsa Roja for carnitas. Guacamole or Pico de Gallo is also great on Mexican pulled pork tacos!
Tacos Dorados or Tacos de Papa: The classic here is the cabbage salad topping! any kind of salsa or even guacamole! definitely some crumbled queso fresco. Onion and cilantro are inside the cabbage salad. This recipe is always eaten with cabbage salad in Mexico but if you are not into cabbage just chopped onion and cilantro and add it as a taco fixing.
Mushroom Tacos: For vegan tacos, I will definitely go with salsa Roja or avocado salsa, onion, and cilantro, probably is the only taco I wouldn't add lime. If you eat cheese add some melted chihuahua on top or crumbled queso fresco.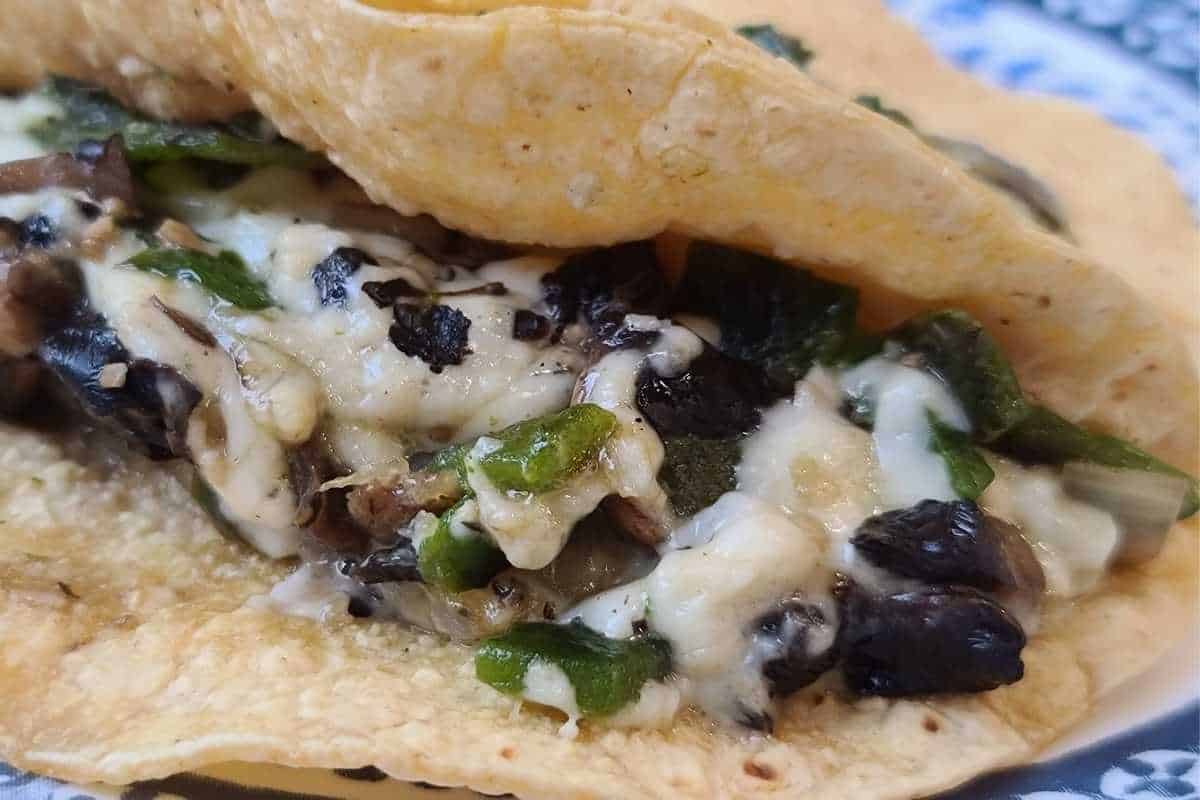 Guisado Tacos: Guisados are classical Mexican casseroles such as picadillo, tinga, cerdo en salsa verde, there is an infinity of Mexican guisados. We usually serve them with rice and fried beans and make our tacos while eating, this is usually eaten just with hot salsa as a topping.
Pollo Tacos: Chicken tacos toppings can be guacamole, salsa de aguacate, pico de Gallo, hot sauce for sure, lime, cilantro, and chopped onion or pickled red onions.
Is there any taco you will like to know what the best topping for it is? write it in the comments and will love to help you out. In the end, the best Tacos topping list is the taco fixings you prefer and taste better for you! What are your favorite Mexican dishes?
Only for reference! authentic Mexican tacos are ALWAYS made with soft tortillas. In places like Sinaloa, they use flour tortillas for tacos. Most places in Mexico will go for corn tortillas. Shell tacos don't exist in Mexico, we call them tostadas, and are fried tortillas, pretty much shell tacos!
Here are some of my Taco favorite recipes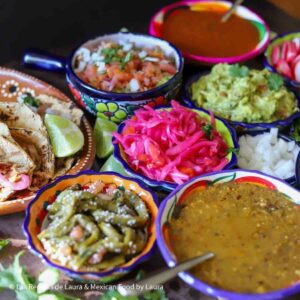 Top 20 Tacos Toppings to Make Your Taco Fiesta a Hit
Print
Pin
Rate
Equipment
1 Knife

1 Cutting board

1 conteiner
Ingredients
1

piece

onion

1 ½

bunch

cilantro

6

pieces

lime

½

cup

cheese

6

pieces

tomatillo

1

piece

serrano

1

clove

garlic

1

tablespoon

cooking oil

½

piece

cabbage

2

pieces

tomato

1

tablespoon

salt

1

piece

avocado
Instructions
Chopp ½ onion and place in a conteiner. Cover with water and add hadlf easpoon salt. Let it rest for 5 minutes. Get rid of the water and dry with a papaertowel. Place on a conteiner ready to serve.

Risen the cilantro. Chopp and place in a conteiner ready to serve.

Cut 4 limes in wedges and place in a conainer ready to serve.

Chopp avocado and serve as another fixing
Salsa Verde for Taco Toppings
Rinse the tomatillos and get rid of the skin.

Spread cooking oil on the tomatillos, garlic cloves and ¼ of an onion.

Roast the tomatillos, garlic and onion in the air fryer or oven for about 6 minutes or until cooked.

Add cooked tomatillos, garlic, onion. ½ teaspoon salt and a bunch of cilantro to the blender and liquify.

Serve the salsa verde cold next to the other ingredients.
Mexican Cabbage Salad
Chopp 4 tablespoons cilantro
Video
Notes
This is the list of the best authentic Tacos Toppings for your Taco Bar! 
Chopped Cilantro/Coriander
Chopped white Onion
Pico de Gallo
Lime wedges
Shredded Cheese
Pickled Red onion
Radish slices
Queso Fresco
Sour Cream
Avocado
Chile Toreado
Shred Lettuce
Nutrition
Calories:
169
kcal
|
Carbohydrates:
12
g
|
Protein:
5
g
|
Fat:
13
g
|
Saturated Fat:
3
g
|
Polyunsaturated Fat:
2
g
|
Monounsaturated Fat:
7
g
|
Trans Fat:
0.01
g
|
Cholesterol:
11
mg
|
Sodium:
1494
mg
|
Potassium:
411
mg
|
Fiber:
5
g
|
Sugar:
4
g
|
Vitamin A:
429
IU
|
Vitamin C:
40
mg
|
Calcium:
130
mg
|
Iron:
1
mg
Latest posts by Laura Muller
(see all)