This post is also available in: Español
Make from scratch your own whole wheat pancakes mix! This only requires a few ingredients to learn how to make delicious homemade whole wheat pancakes recipe. I love pancakes on Sunday morning but I must admit that if I have them for breakfast I get what we call in Mexico "El mal del puerco" which is pretty much feeling all your energy going to your stomach for digestion and just wanting to lay down to watch tv for the rest of the day… Yes, a food coma! With two little kiddos, I can't afford to have El mal del Puerco on a Sunday morning.
So I am careful with how many pancakes I eat as well as staying far away from refined white flour. This is why I came up with this delicious and easy recipe to make whole wheat pancakes mix with real whole wheat flour from scratch.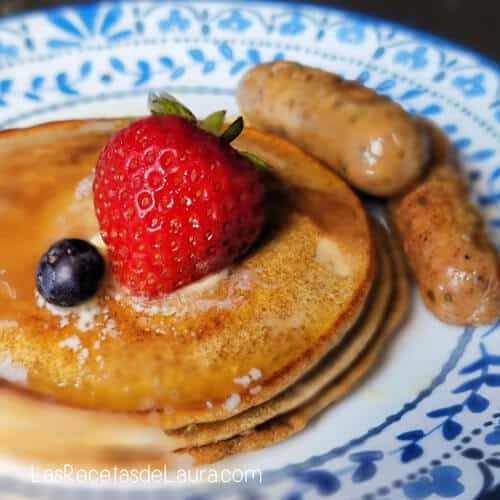 ingredients to make Whole Wheat Mix at home
1 ½ cups of whole wheat flour. I use the Bob's Red Mill whole wheat flour.
1 spoon of baking powder
½ teaspoon of baking soda
2 spoons of sugar
1 spoon of vegetables oil or butter
2 eggs
1 spoon of vanilla extract
1 ½ cups of milk (I use almond milk)
How to Make Whole Wheat Pancakes from Scratch
To make you own whole wheat pancakes from scratch is always good to start with dry ingredients. Place 1 and ½ cups of whole wheat flour in a container.
Add 1 spoon of baking powder, ½ teaspoon of baking soda, and two spoons of sugar. Mix all well.
Now that all the dry ingredients are well mixed add 2 eggs, 1 spoon of vanilla extract, 1 and a ½ cups of milk, and 1 spoon of melted butter or vegetable oil. Mix all together until you have the best whole wheat pancake mix!
IMPORTAT: Depending of the brand of your whole wheat flour the recipe might require more or less milk. Remember that whole wheat can absorve some more liquid than refined flours.
At home, we use organic maple syrup to add to our pancakes. I buy it at Costco and my kids love it. Many people follow my Mexican recipes because I cook specially for people with diabetes or hypertension so I give you a few ideas of pancakes for diabetics
Diabetics pancakes recipe
I always try to make my traditional Mexican cooking recipes healthier and whole wheat pancakes are definitely a better option to satisfy a craving if you need to control your sugar levels. Always remember that quantity matters! if your sugar is controlled you can add 1 teaspoon of sugar or maple syrup to your pancakes. This recipe makes pancakes for 4 people.
There are some brands that offer low-carb or sugar-free syrups that taste like maple syrup. A trick sometimes I use is to dissolve an envelope of stevia in a little water and a pinch of butter and then add it like honey or maple syrup to my pancakes.
Remember that this recipe for whole wheat pancakes will help your sugar levels to do not rush up as they do with white flour but still this is carb so keep the portions controlled and another good trick is to add to the mix some grated zucchini to add m=some more fiber and prevent sugar levels to rise too fast.
Another indulgent Breakfast Ideas you will love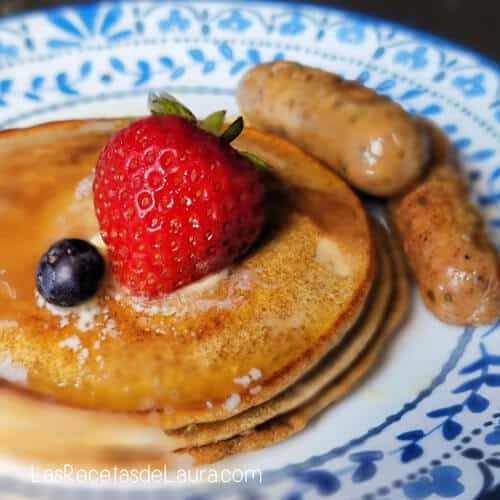 Ingredients
1.5

cups of

whole wheat flour

1

tbsp of

baking powder

.5

tsp of

baking soda

2

tbsp of

sugar

1

tbsp of

vegetables oil or butter

2

eggs

1

tbsp of

vanilla extract

1.5

cups of

milk
Instructions
To make you own whole wheat pancakes from scratch is always good to start with dry ingredients. Place 1 and ½ cups of whole wheat flour in a container.

Add 1 spoon of baking powder, ½ teaspoon of baking soda, and two spoons of sugar. Mix all well.

Now that all the dry ingredients are well mixed add 2 eggs, 1 spoon of vanilla extract, 1 and a ½ cups of milk, and 1 spoon of melted butter or vegetable oil. Mix all together until you have the best whole wheat pancake mix!

IMPORTANT: Depending of the brand of your whole wheat flour the recipe might require more or less milk. Remember that whole wheat can absorve some more liquid than refined flours
Latest posts by Laura Muller
(see all)