This post is also available in: Español
For a long time I was frustrated by the size of my breasts. Hated them. Since I was a child I had breasts, I was overweight so from a very early age I developed breasts.
My breasts were big, my mom reminded me every time I chose a blouse that would fit my body. When I grew up, despite being overweight, I always had a slim waist and I didn't like to wear blouses so loose, because then they had to be as wide as my hips, which was quite wide.
WEAR CLOTHING THAT DISSIMULATES YOU!
There was my mother's voice again "Don't put on blouses fit to your body, your chest looks to big " "No, that blouse has too much cleavage, it doesn't look good on you" "Put on loose blouses so your chest doesn't show." "You have a very large breasts, you have to wear clothes that hide them"
I was a girl, I was a teenager and I was still under the firm instruction of my mother that I did not look good at all because my breasts were too large… and they were. I was a size 40 DD. I am 1.72cm (5'8) height and I was always between size 14 and 18.
HOW WORDS CHANGE YOUR LIFE
At the age of 18, I had the opportunity to spend a year in Brazil as an exchange student through the Rotary Foundation. I lived with 3 families, and it was with my last family that my host mother Solange took us to a great place in Sao Paulo where they sold clothes. I took a blue cotton and spandex blouse that hung close to my body. When I was wearing it in front of the mirror , my Brazilian mom, Solange, told me, You look great! look at that beautiful waist you have! I replied that I also liked the blouse but that it was to fit and made my breast look too big.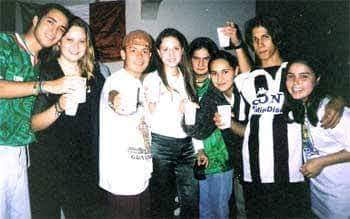 Solange told me of course! and you look beautiful. Laura! you are a very tall woman, you are a big woman, how would you look with small breasts? the size of your breasts is perfect for the size of a woman you are. You have beautiful breasts.
That day I learned that the size of my breasts was perfect for me, for my body, for the clothes that I put on. I lost the fear of necklines and I did not allow the voice of my birth mother to lock me back into watery blouses so that the size of my breasts would not be seen.
THANK YOU-OBRIGADA MÃE SOLANGE
From that day on and thanks to my mother Solange I enjoyed my breasts. Many years later, now in my forties my breasts have had significant variations. I have worn them in tremendous necklines and I even went topless on a beach in Thailand. Now that the adventure of youth has passed, they have served me to feed my two children until after one year of age. Today I really like my breasts, today I see them when I take a bath and I tell them that they are more beautiful every day. No matter how bad gravity has taken over or the size of the bra I wear. Today I am deeply grateful for my breasts and the work they have done in allowing me to feed my children. For making me feel pretty and being part of my body and personality … or pechonalidad (this only makes sense in Spanish)
Note. I love and adore my mom. She was the one who, along with my father, have driven me to be the person I am. As parents we give what we have and what we believe is best for our children. I know that what my mom told me at the time she believed was for my good and without the intention of hurting me.
Latest posts by Laura Muller
(see all)