This post is also available in: Español
Birria is a traditional Mexican food that is very popular at weddings, quinceañeras, and even baptisms! Today I teach you how to make Authentic Birria Tacos with consommé.
If you want to sound authentic when cooking birria, remember that it is pronounced as bee. – rryah. There you go, just add the Mexican accent and you are all set! This is the easy birria tacos recipe made in Instant pot! All instruction in English from a Mexican mom.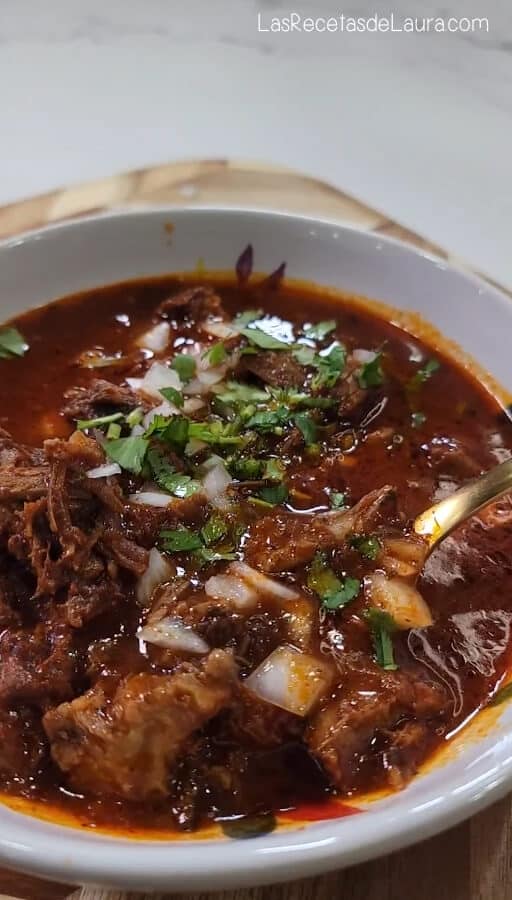 In Mexico, we know that after a night of drinks there is nothing like a flavored birria broth, consommé to bring death back to life… even Birria Tacos or Barbacoa is a popular breakfast on the weekends!
What is birria?
Is a spicy Mexican soup or consommé traditionally made with goat meat, or Carne de chivo. Birria can be eaten as a soup with meat, in tacos, and even birria quesadillas dipped in consommé!
What animal is birria meat?
Birria meat cooked the traditional way is made with goat meat as it is made in Jalisco. You can definitely make it with beef and lamb. Beef birria has become very popular as it is cheaper and easier to find and cook.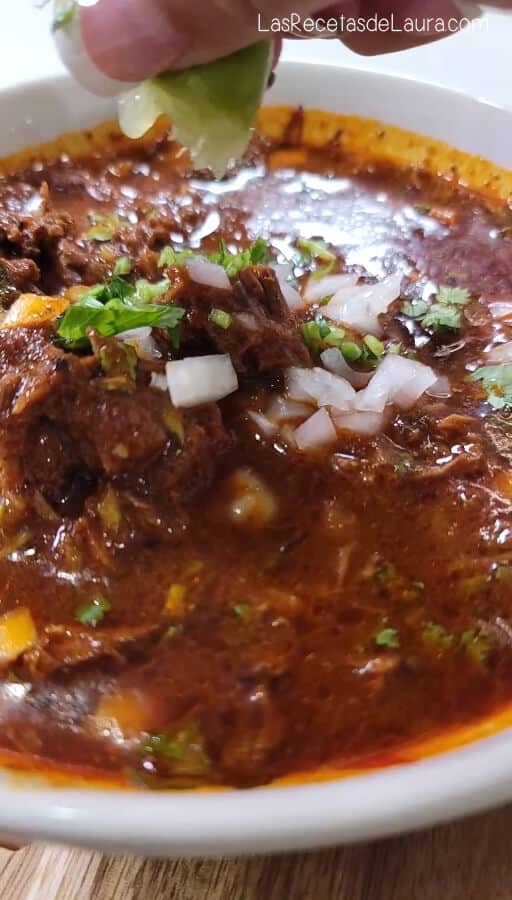 How Birria is Eaten in Mexico
In Mexico, we traditionally eat the birria meat inside the broth (consommé) and sprinkle on top some fresh chopped onion and cilantro, of course adding some lemon juice and spicy salsa to the broth.
You can eat the consommé apart from the beef. In Chihuahua, my hometown we add chickpeas to the broth and sprinkle them with onion and cilantro as well as tons of lime juice and we eat the beef in tacos.
Birria tacos are made with the birria meat without the broth. Many people like to cook some of the fat from the broth in a pan and then fry in that fat the beef.
Make quesadillas either harina or maíz and fill them with the birria beef and dip them in the consommé!
INGREDIENTS
10 black pepper
5 cloves
1 teaspoon cumin
3 bay leaves
¼ teaspoon marjoram
½ teaspoon thyme
2 tablespoons oregano
½ teaspoon of powder ginger
1 cinnamon stick
½ cup vinegar
6 tomatoes
8 garlic cloves
½ onion
1 tablespoon cooking oil
2 ½ tablespoons salt
5 Chile ancho
7 guajillo
5 chile cascabel
7 pounds Goat meat (loin, leg rib) or 7 pounds of Beef (chambarete & bone-in beef shoulder)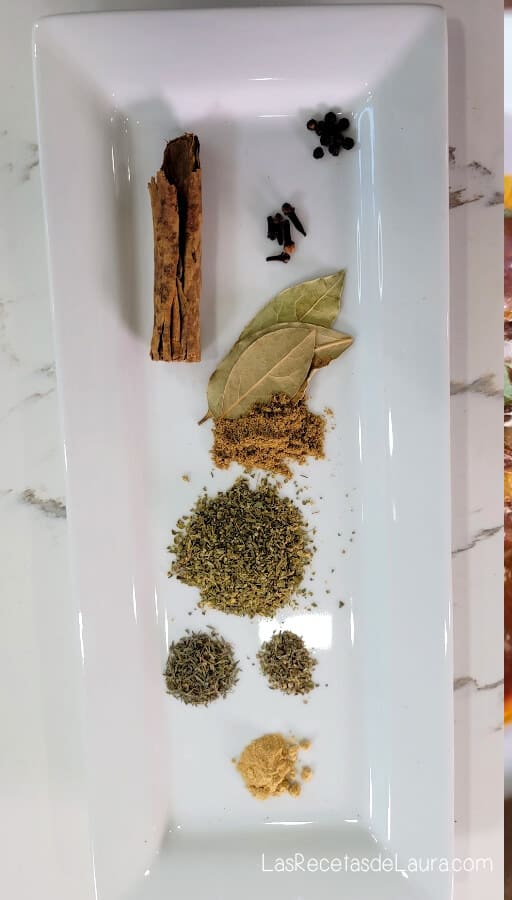 How Much beef or chivo do I need to make birria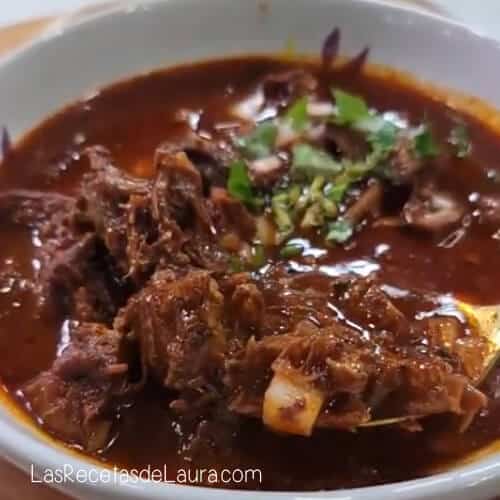 This is the kind of meat or beef you need to buy to make birria for about 8 people. You can you use pork or chicken to make birria? yes, you can. We do not usually make it like that but first of all, birrria is a kind of marinade that you can use for any kind of meat or even go vegan with some toffu and chickpeas!
Goat meat, birria de chivo (loin, leg, rib)

7 pounds

Beef Birria or carne de res (chambarete & bone-in beef shoulder)

7 pounds
Lamb, cordero o borrego Birria

(loin, leg, rib)

7 pounds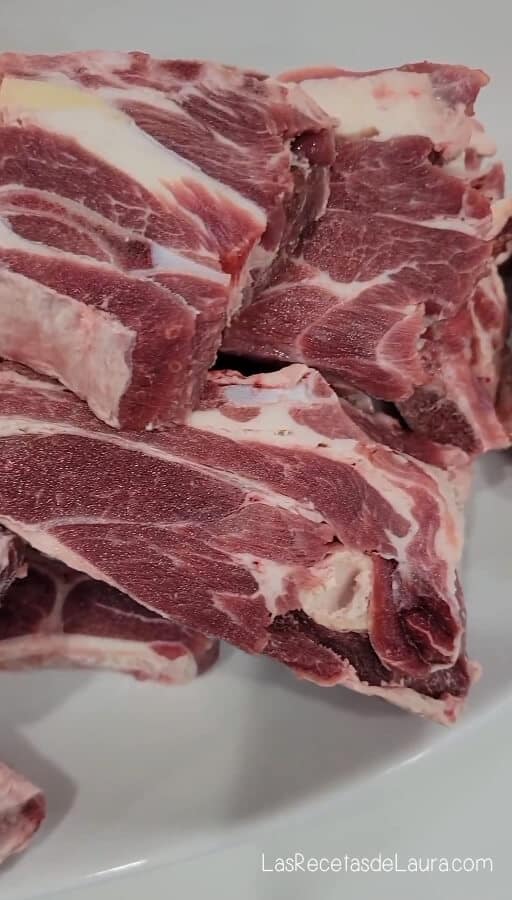 THESE ARE THE KIND OF CHILES YOU NEED TO MAKE BIRRIA
Most cities with a high density of Mexican immigrants have their own Mexican supermarkets where you can easily find these Mexican chiles to cook Mexican food recipes. I know for sure that in Chicago, New York, L.A, Colorado, and most of Texas and Georgia you can find it. If you live in Chicago or near by you can find them at Tony's, Cermak, Carniceria Jímenez, Super Mercados El Guero. Birria is made of a mix of spices, chilis, goat meat, beef, or lamb.
5 Chile ancho
7 guajillo
5 chile cascabel
Chiles replacement
You might have trouble finding some of these chilies. Most probably cascabel. Chile ancho and guajillo are more common. In that case use 12 guajillos and 7 chile ancho instead of the cascabel.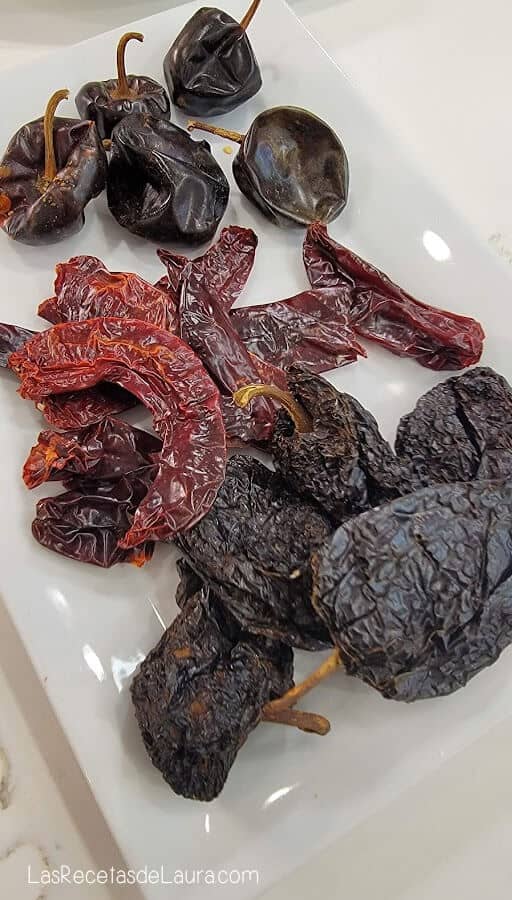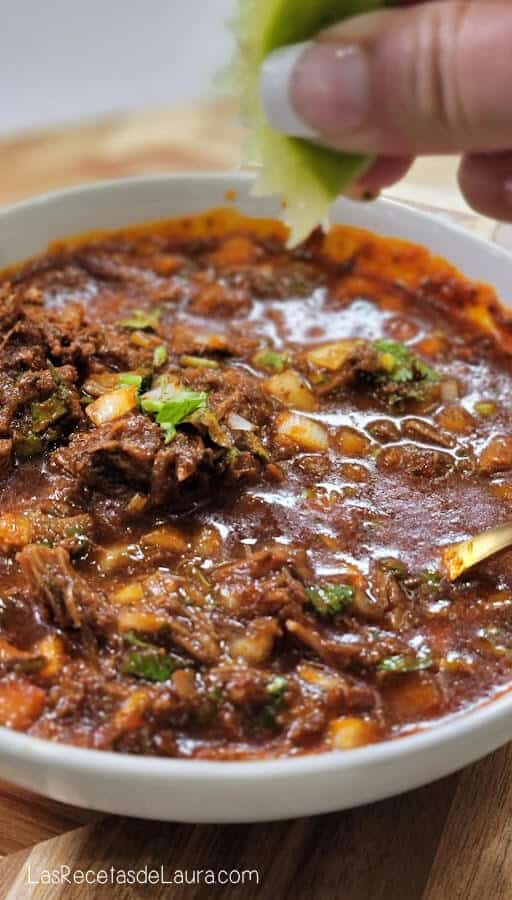 How do you cook Birria in Instant Pot
In the Instant Pot, Birria will only take about 1 hour the be ready and believe me, it turns out delicious.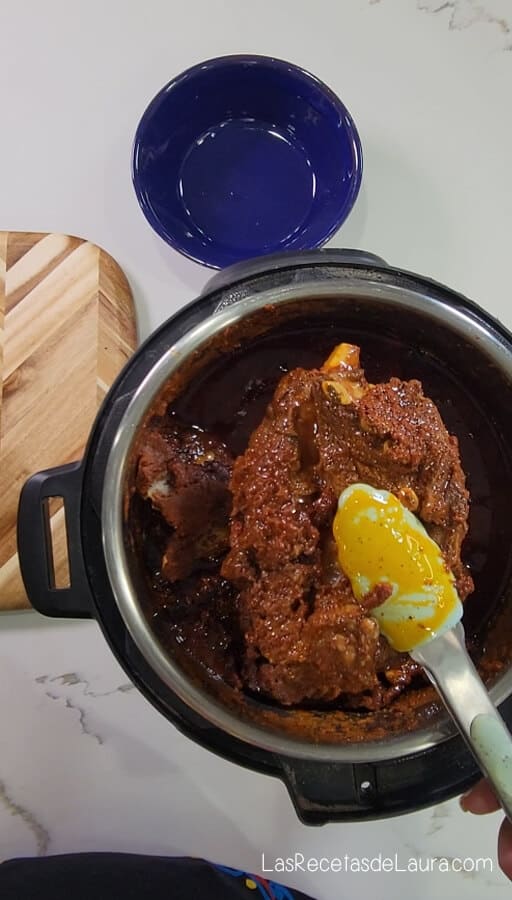 Homemade Birria Step by Step
Spread oil around 6 tomatoes, ¼ of an onion, and 8 garlic cloves. There are 2 ways to cook these vegetables. Set the air fryer at 400f and place the veggies and garlic inside, let them fry for 5 minutes. Half the way remember to shake the Air Fryer basket. The second way is to Cook them on a griddle. It will take you about 20 minutes and remember to flip them over so they cook evenly.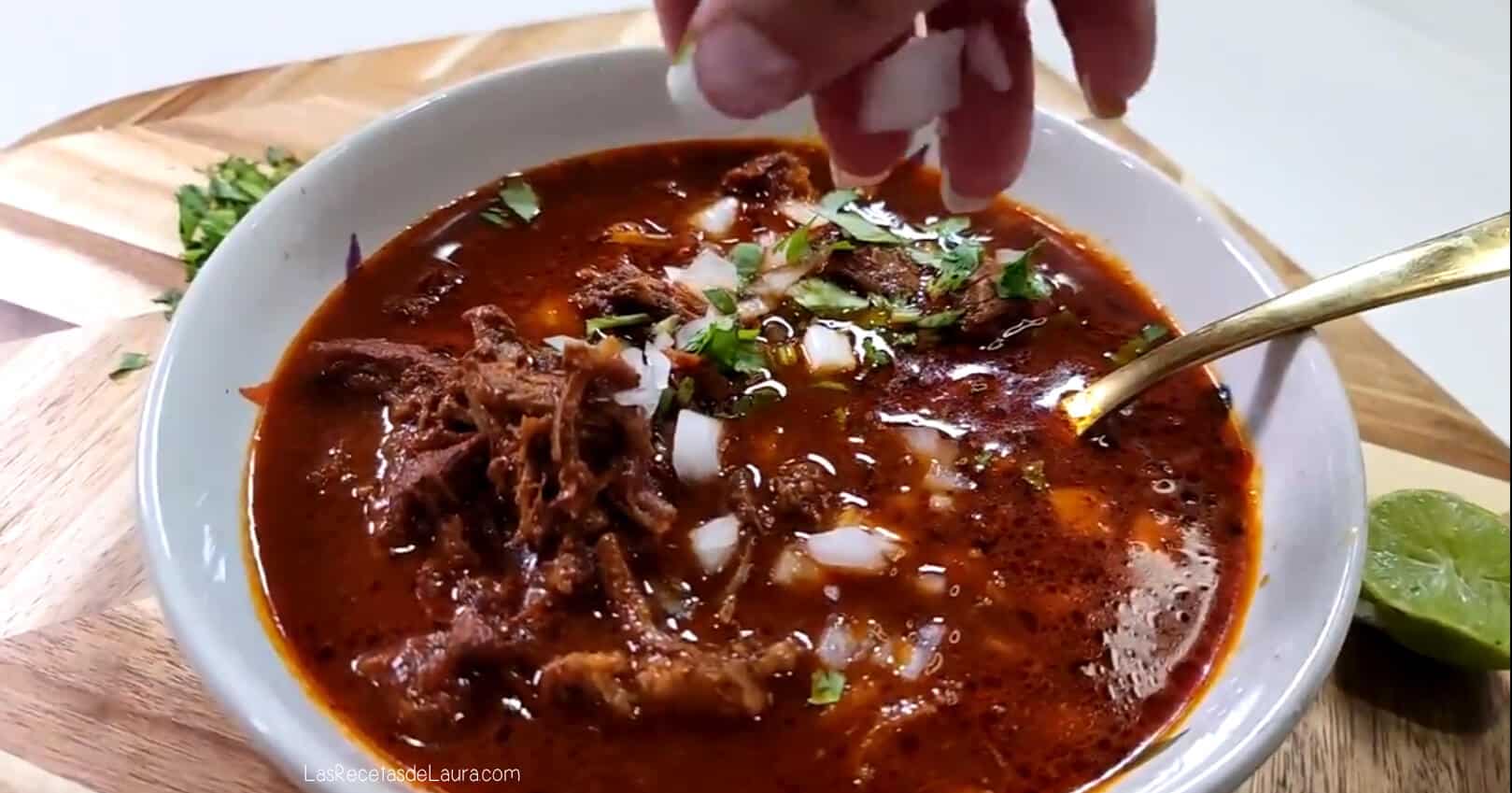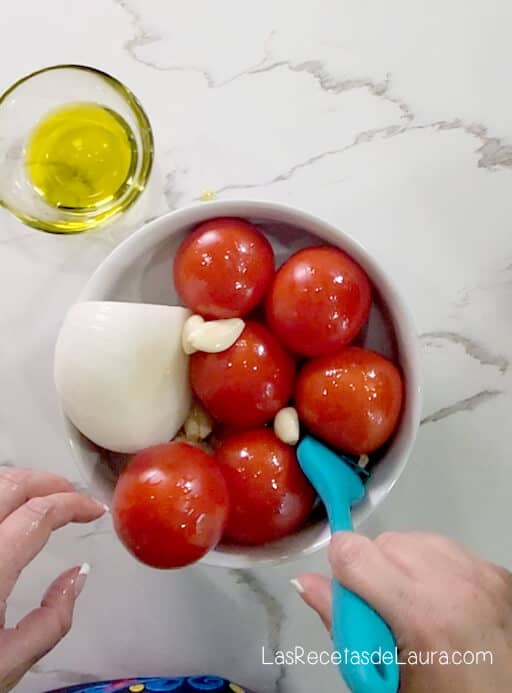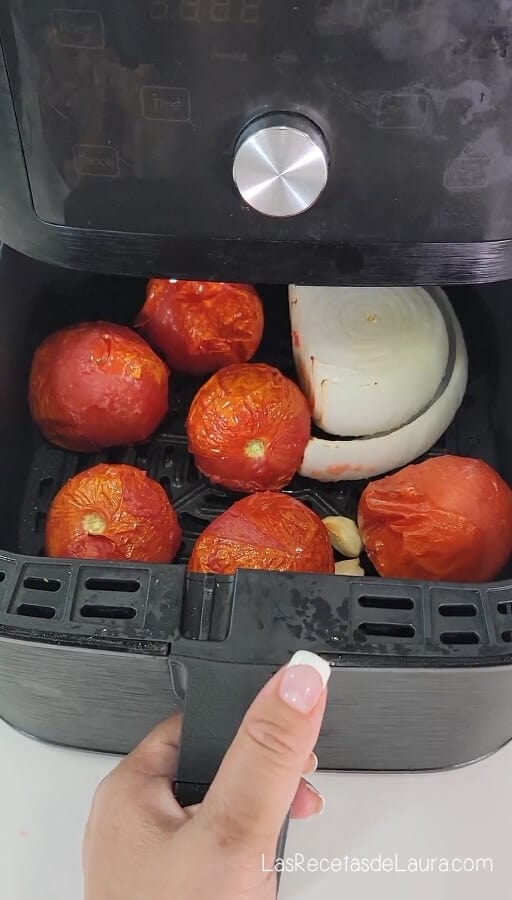 Take the chiles and get rid o the branches and seeds.
Now place the chiles on a griddle at medium heat. This will help us to give more flavor to the chiles. Keep flipping them over and as soon as they start to smell is time to move them to a pot with some hot water. They do not take longer than 10 seconds on the hot grill. It's very importante they do not burn or the sauce will turn out bitter.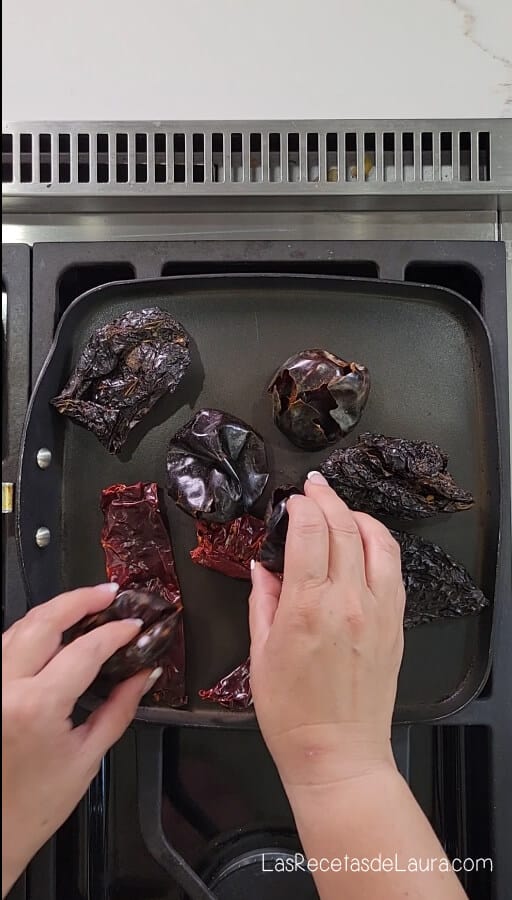 Leave the chiles soaking in water for about 10 minutes. Make sure that they are really submerged. You can keep them down with the help of a plate. You do not need to cook the chiles just to rehydrate them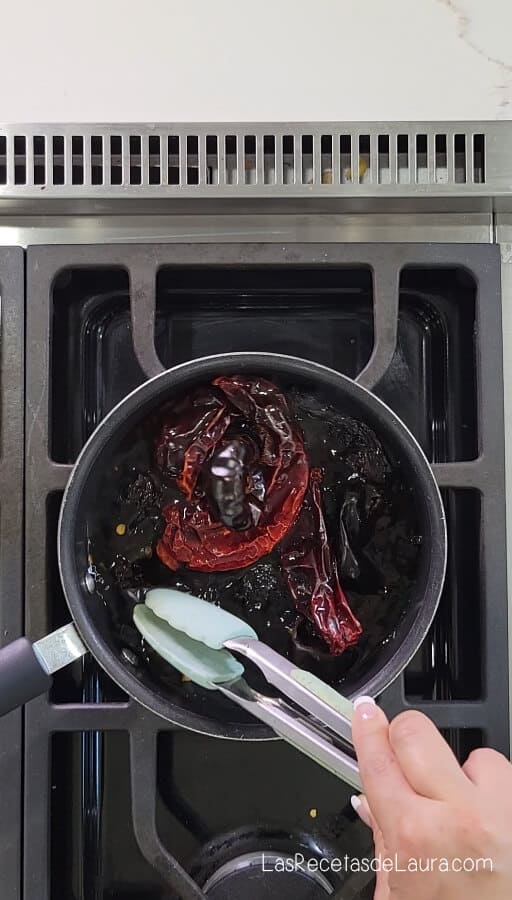 In the blender add 1 cup of water, half a cup of vinegar, and add all of the other ingredients, chiles, roasted tomatoes, spices, garlic, onion, 1 tablespoon of salt and all the spices. Blend until pulverize.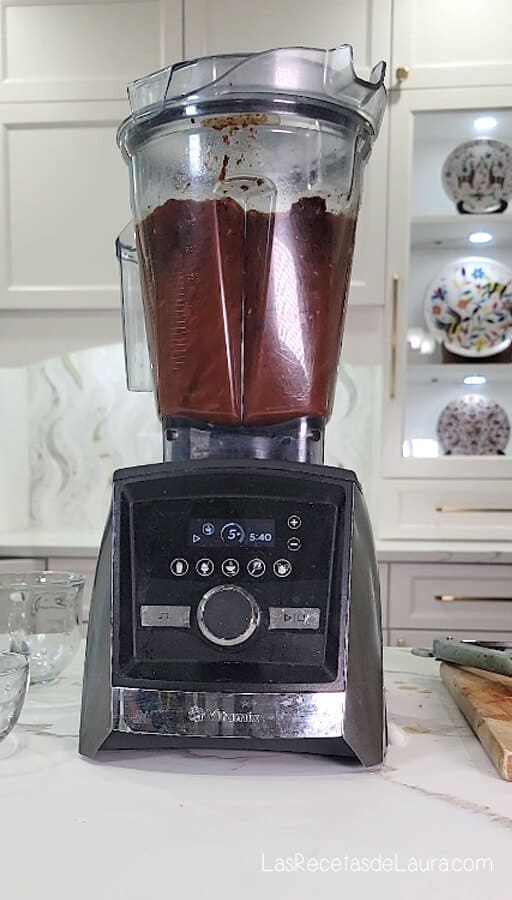 Now rinse the meat and place it inside the Instant Pot

.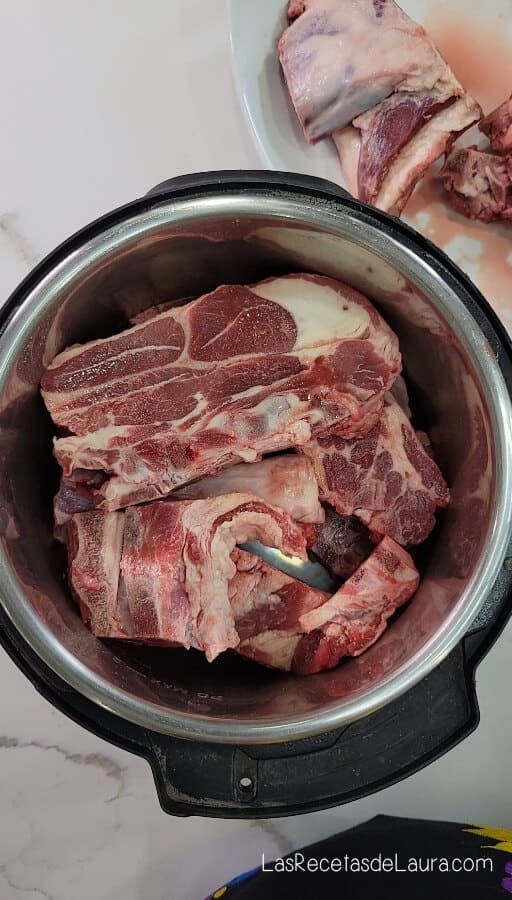 Bath the meat with the salsa we made in the blender and let it cook in the instant pot at the Meat and Bean option.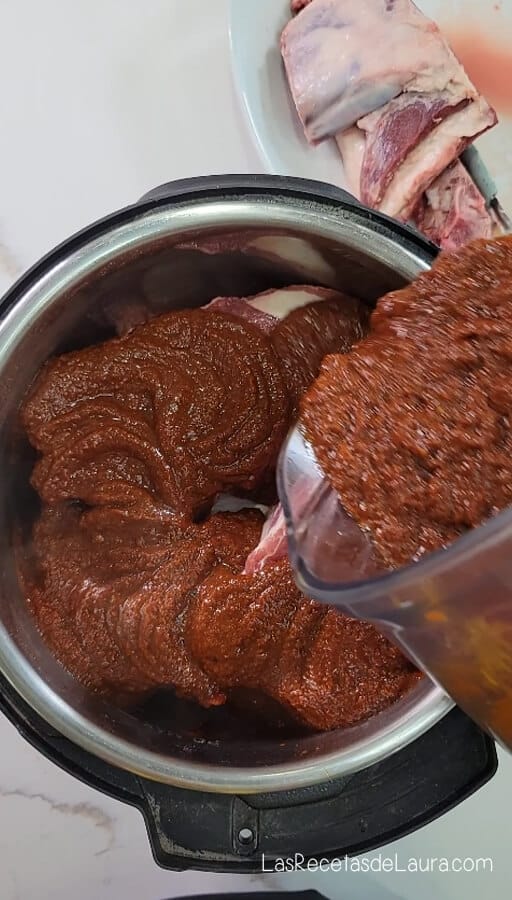 Once the carne or meat is cooked separate it from the broth.
Let the meat cold down a little bit and shred with the help of a  knife and fork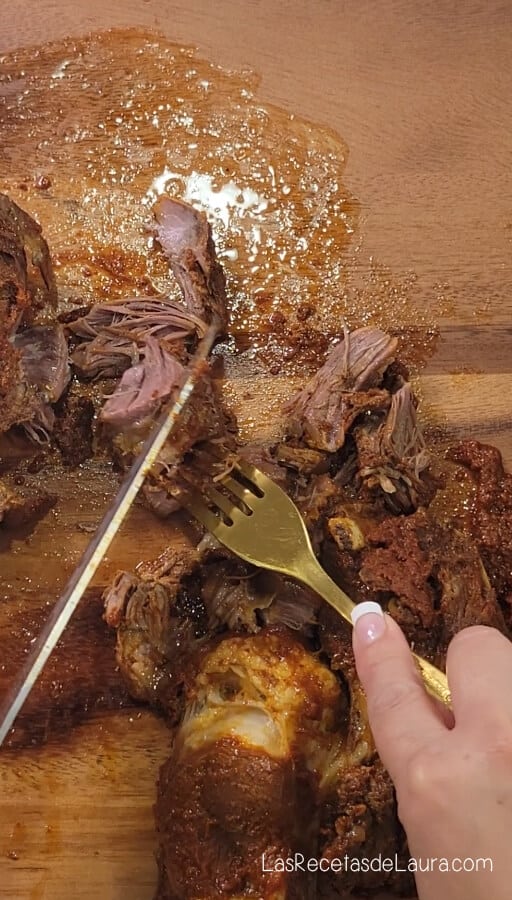 Pass the broth through a sieve and just keep the broth.
Now place the broth inside a pot and add 8 cups of water, 1 tablespoon of salt, and one of oregano. Stir and let it boil for about 15 minutes.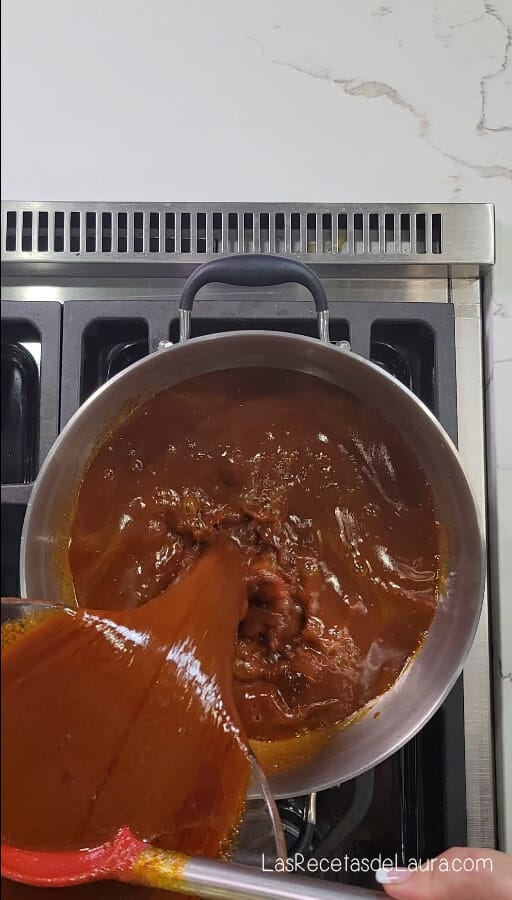 Serve the meat and add the broth, sprinkle with some chopped onion, cilantro, and lime on top. 
This amigos is an authentic Mexican birria!! what are you making with this birria? quesadillas? tacos? I will love to see what you make with this recipe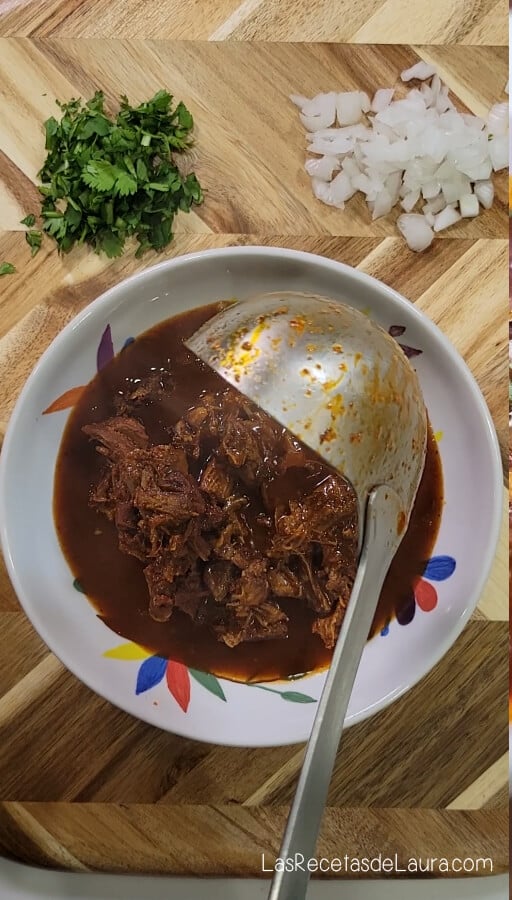 How to make Birria Tacos with consommé
Did you know that the places in Mexico that sale birria are named Birrierias? Is one of the only Mexican meals that have its own name for a place! there is no barbacorias or menuderias is only for birrierias!!
Birria Tacos are very easy to make and I give you two options, the healthy one and the very delicious yet full of fat recipe.
For the healthy recipe just take the birria beef apart from the broth, shred and place in side some corn tortillas. Sprinkle with some chopped onion and cilatro and add lime juice and some salsa on top.
For the fry birria, let the consommé rest for half an hour and you will see a layer of fat on the top of the container. Grab some of that fat and place it in a warm pan. Let it melt and once its hot add the shredded birria beef and fry in the fat. Place the beef in side some corn tortillas. Sprinkle with some chopped onion and cilantro and add lime juice and some salsa on top.
Authentic Mexican Barbacoa Recipe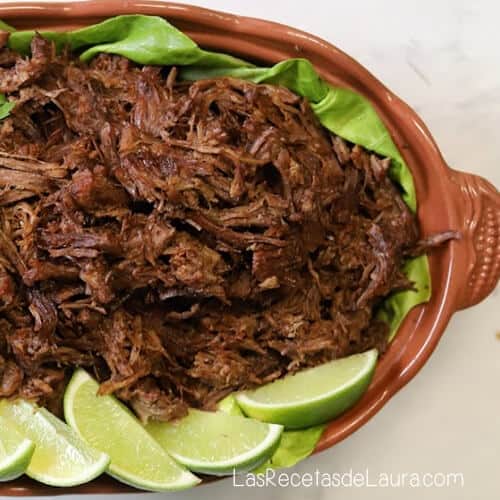 Easy and fast in the Instant Pot
Homemade barbacoa with easy step by step instructions. Perfect for tacos! Check out recipe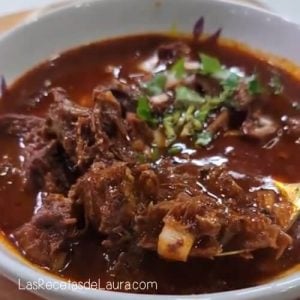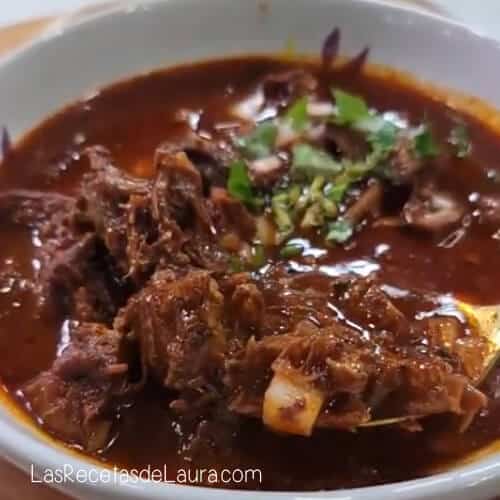 Equipment
Air Fryer optional

Instant Pot (optional)
Ingredients
10

black pepper

5

cloves

1

tsp of

cumin

3

bay leaves

¼

tsp of

marjoram

½

tsp of

thyme

2

tbsp of

oregano

½

tsp of

powder ginger

1

cinnamon stick

½

cup of

vinegar

6

tomatoes

8

garlic cloves

½

onion

1

tsp of

cooking oil

2 ½

tbsp of

sat

5

chile ancho

7

guajillo

5

chile cascabel

7

pounds

goat meat

or 7 pounds of beef (chambarete)
Instructions
Spread oil around 6 tomatoes, ¼ of an onion, and 8 garlic cloves. There are 2 ways to cook these vegetables. Set the air fryer at 400f and place the veggies and garlic inside, let them fry for 5 minutes. Half the way remember to shake the Air Fryer basket. The second way is to Cook them on a griddle. It will take you about 20 minutes and remember to flip them over so they cook evenly.

Take the chiles and get rid o the branches and seeds.

Now place the chiles on a griddle at medium heat. This will help us to give more flavor to the chiles. Keep flipping them over and as soon as they start to smell is time to move them to a pot with some hot water. They do not take longer than 10 seconds on the hot grill. It's very importante they do not burn or the sauce will turn out bitter.

Leave the chiles soaking in water for about 10 minutes. Make sure that they are really submerged. You can keep them down with the help of a plate. You do not need to cook the chiles just to rehydrate them

In the blender add 1 cup of water, half a cup of vinegar, and add all of the other ingredients, chiles, roasted tomatoes, spices, garlic, onion, 1 tablespoon of salt and all the spices. Blend until pulverize.

Now rinse the meat and place it inside the Instant Pot.

Bath the meat with the salsa we made in the blender and let it cook in the instant pot at the Meat and Bean option.

Once the carne or meat is cooked separate it from the broth.

Let the meat cold down a little bit and shred with the help of a  knife and fork

Pass the broth through a sieve and just keep the broth.

Now place the broth inside a pot and add 8 cups of water, 1 tablespoon of salt, and one of oregano. Stir and let it boil for about 15 minutes.

Serve the meat and add the broth, sprinkle with some chopped onion, cilantro, and lime on top. 

This amigos is an authentic Mexican birria!! what are you making with this birria? quesadillas? tacos? I will love to see what you make with this recipe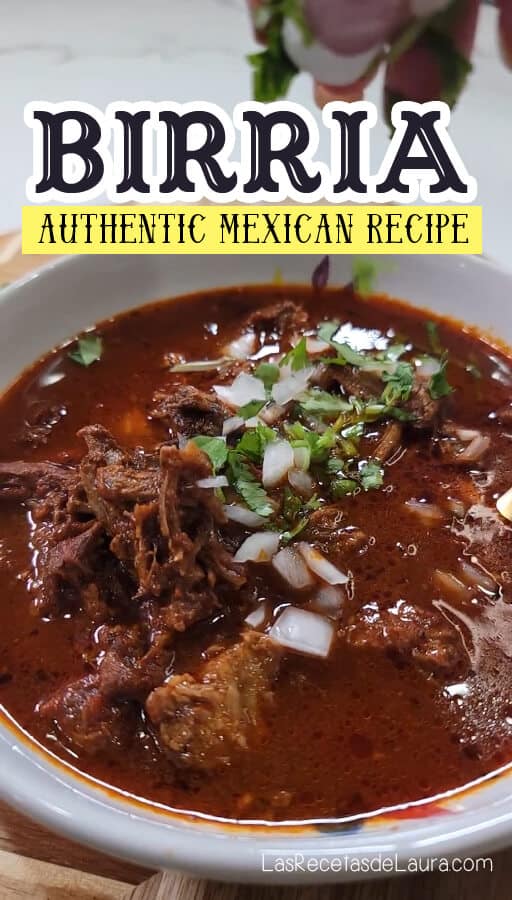 Latest posts by Laura Muller
(see all)