This post is also available in: Español
Are you a brand? work with Laura
Bienvenidos to Las Recetas de Laura! On my website, you will learn how to cook authentic Mexican food from a real Mexican mom. You can also find some great tips for traveling with kids, adventures around Chicago, and a lot of self-love, realization, and craziness from a mother who works full time in radio and is also known as one of the most recognized Hispanic, Latinas, influencers and bloggers in the Midwest.
---
I am an immigrant, and so does my husband. We are raising bilingual and multicultural kids in Chicago. For me, it is very important that my kids can learn the language that their grandparents speak and teach them to love their parent's country and traditions as much as our now beloved homeland, The United States of America. We feel very fortunate to live in the country of dreams and opportunities and be able to create roots in this land. I also feel extremely honored to share some of my Mexican heritage through my recipes. 
My passion for cooking comes from the weekends staying over at my Abuelita's house. Conchis as well called her. She was an amazing cook. My favorite recipe at my grandma's home was Chiles Rellenos and Sopa de Fideos. I love the smell of a warm soup and love to spoil my kids and husband with tasty meals cooked from scratch made with natural ingredients and a lot of amor.
*My grandma Conchis was next to my grandpa Mauro in their youth.
---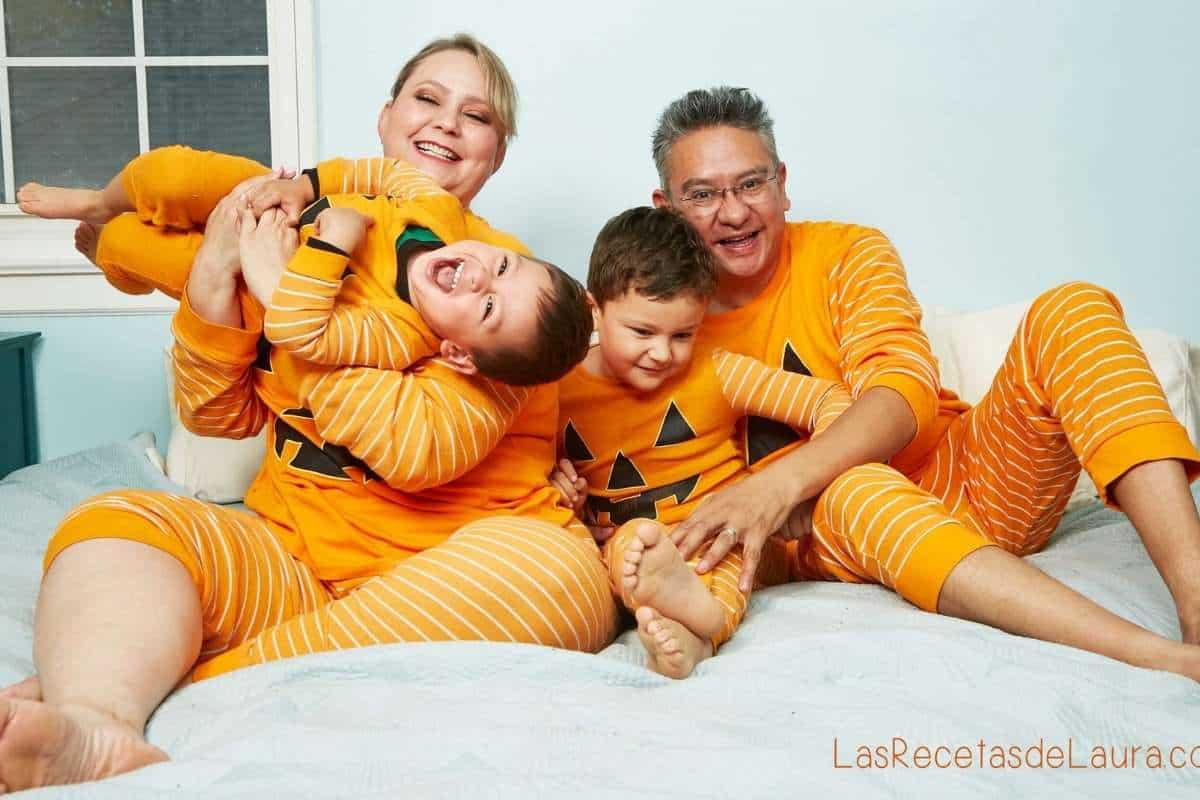 I love to eat. Food makes me happy as well as writing and cats. I am a mother to Jorge (5) and Oscar (2) and a wife to Jorge Salazar. My husband is  a long time hispanic radio personality in Chicago. We both work in media and run together Las Recetas de Laura and Mexican Food by Laura.
I have a bachelor's in Mass Communication and later on, I was awarded with the Peace Ambassador Scholarship from the Rotary Foundation and was sent to study a Graduate Program in Journalism at the University of Canterbury in New Zealand. I also have graduate studies in gender equality and The Right to Information by the foundation Konrad Adenauer. I have traveled around four continents and love to learn from different cultures and religions.
For 3 years I wrote a syndicated column named Ruleta Urbana that later on became a book. At the moment I am an anchor news host for Radio Claret América in Chicago and create content for a community of nearly 3 million followers for Las Recetas de Laura social media and blog.
Thank you so much for stopping by and read these lines. I hope you enjoy this blog as it is made with pasión y amor…
I invite you to watch me as a Story Teller for Disney Princess at the We all Grow Latina Conference in California (2017)
ABOUT LAURA
Laura Muller is an immigrant Mexican mom living in the city of Chicago. She started her YouTube channel Las Recetas de Laura 10 years ago to teach people how to cook Mexican food in a healthier way. Her recipes are specialized for people with diabetes and high cholesterol. She promotes health at every size and talks about her own experience dealing with overweight and how people of any size can have an active and healthy life.
Laura creates content in Spanish and English for a community of over 3 million followers and has been recognized as one of the most influential Latinas in the US, Latinos 40 under 40 in Chicago, she was honored to be invited as a Story Teller for Disney Princess as well as been invited to the Michell Obama conference Partnership for a Healthier America. @LasRecetasdeLaura and @MexicanFoodbyLaura
SOME FUNNY STUFF ABOUT ME
✓ I love Swimming. It actually the only sport I really enjoy. I am terrible at coordinating my movements so never ask me to raise a hand and a leg at the same time!

✓ I have lived in Mexico, The United States, New Zealand and Brazil.

✓ I am fluent in English, Portuguese and Spanish.

✓ I am awful with numbers! Maths are my kryptonite .

✓ I am a professional speaker and I really enjoy being on stage. 

✓ Cats are my favorite animal. I am always jealous of them. Elegant at every step and sleeping under the sun most of the day… ooh what a life!

✓ I could have never in a zillion years imagined I will become famous cooking, neither less have a cooking show. I was to become a tv news anchor but then… YouTube was born!

✓ I was named one of the most influential latinas in the US.

✓ I suffer from ADHD. I was diagnosed at the age of 4 after been expelled from a Montessory school were they told my mother that I was mentally retarded. 

✓ After living in 4 different countries and traveling 4 continents I ended up marrying a Mexican guy living in Chicago (Best decision I ever made)

✓ In March 2015 Salud 180 magazine and MSN Prodigy profiled me as one of the 7 most outstanding women in health and sports.

✓ I am not that great at baking as the measurements have to be very accurate. My ADHD always asks me to invent something new and most of the times my baking inventions end up in the trash can.

✓ My goal this year is to become a Disney mom.

✓ You wonder why I look everything but Mexican? My great grandfather on my father's side immigrated from Germany to Mexico. On my mother's side my great grand father was a Chiness guy from Canton! immigration is in my blood!

✓ I love being an immigrant mom raising bilingual kids! I get to celebrate holidays from both cultures! We get candy on Halloween and Pan de Muertos the next day for Día de los muertos! Not to mention Independence day!