​​​​​​​Kids love pasta. At least all kids I know never say no to a bowl full of spaguetti or penne riggato in tomato sauce. They might for sure say no to veggies and that is why we are hidding a good portion of vegetables in this delicious homemade tamatoe sauce for pasta. If you want nutrisious and delicious you have it!
HEALTHY PASTAS MADE OF QUINOA, BROWN RICE OR CHICKPEAS!
​​​​​​​We all love pasta but we also know it is not something we can have daily. What if we could find a healthier option for pasta? what about a spaguetti made our of quinoa and brown rice? or some fusilli made out or chickpeas?​​​​​​​​​​​​​​
Leave apart the wheat pasta and start cooking with more nutritious options for pastas. I have being using the Brown rice and quinoa pasta for a while and my kids can't even tell they are not eating the traditional pasta. When they ask for another bowl of chickpeas spaghetti I am all in to refill those bowls.
You can easily find the chickpeas pasta in the brand BANZA and my fav is the Brown Rice and Quinoa Gluten Free pasta from ALDI, it is afordable and you find it as LiveGFree so this is also a great option for gluten intolerant people.
The secret for the most delicious spaguetti or any pasta in tomato sauce is definitly the TOMATO SAUCE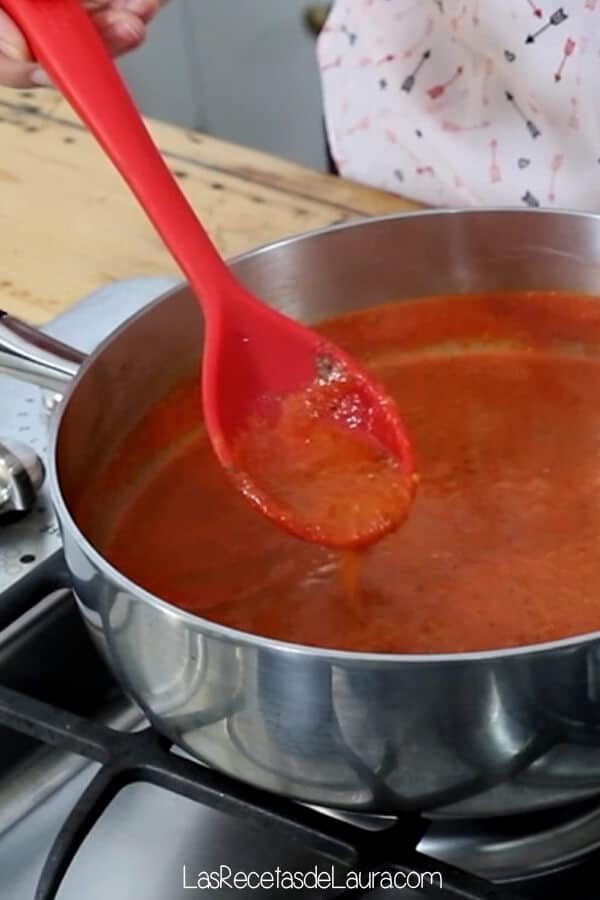 INGREDIENTS FOR HOMEMADE TOMATO SAUCE
400 gr o 1 pound of tomato
1 tea spoon Italian herbs (they sale it like that. If you don't have you can use basil, oregano, rosemary)
1 carrot
1/2 stick of celery
1 garlic clove
2 spoons of olive oil
3 spoons of parmesan cheese
1 package of pasta
HOW TO MAKE TOMATO SAUCE FROM FRESH TOMATO STEP BY STEP
Cut the carrot into pieces and cook in boiling water for two minutes
Add the celery and tomatoes to the water. Cover and let all boil for 7 minutes.
Set water to boil in a pot and once is bubble in add the pasta. Follow the instructions from the pasta box. My experience with brown rice and quinoa pasta is that it takes a little more to cook than wheat pasta. The chickpeas pasta cooks much faster.
Once the pasta is al dente get rid of the water and put the pasta back in the pot.
Blend the vegetables along with the garlic until you have a smooth sauce.
In a pan drop 2 spoons of olive oil. Let it warm up and then add the salsa and the Italian herbs along with salt to taste. Let it boil for 3 minutes.
Add the sauce to the pasta, mix and the add the Parmesan cheese and mix again.
Your pasta is ready to be serve.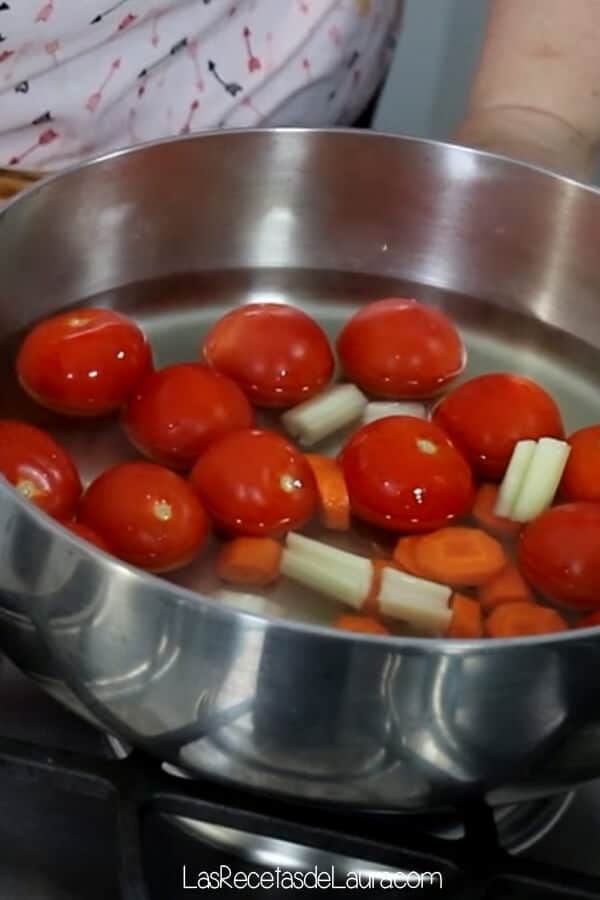 Whos is going to say no to a homemade spaguetti tomato sauce?
My kids always ask for more pasta when I make this. This easy homemade tomato sauce for pasta with fresh tomato is nutricious and delicious. As you can see they get a good amount of vegetables from this recipe and I feel happy to know that they are eating just right!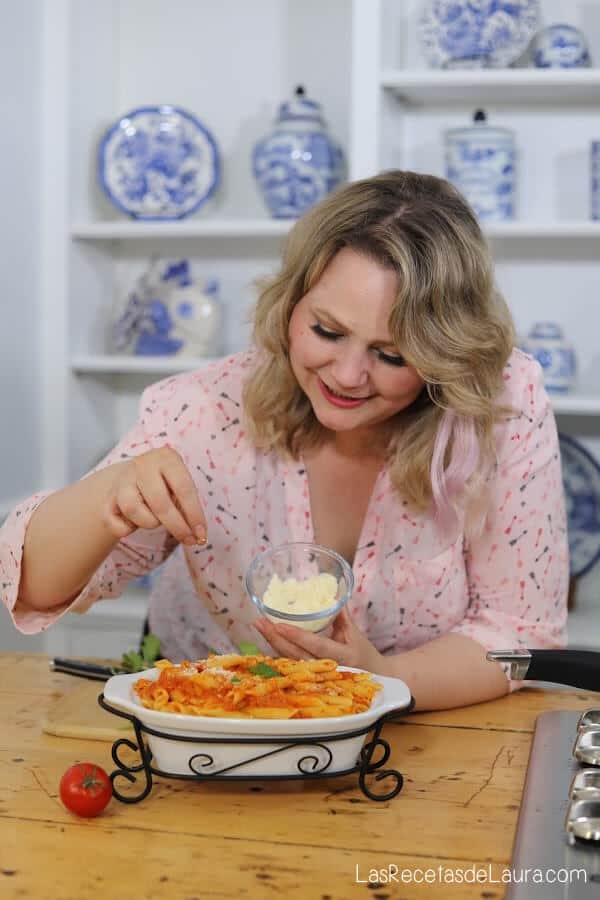 Not long ago I started to geminate my own tomato! and I made it with the seed from tomatos that I had just bought from the supermarket! If you want to learn how to plant your own tomato from seeds from other tomato read my post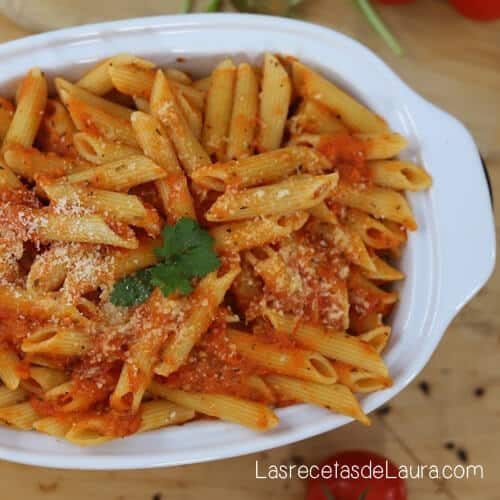 Ingredients
400

gramos de

tomate

1

cdta de

hierbas italianas

1

zanahoria

1/2

rama de

apio

1

diente de

ajo

2

cdas de

aceite de oliva

3

cdas de

queso parmesano

o queso manchego o chihuahua

1

paquete de

pasta
Instructions
Pon a cocer la zanahoria cortada en trozos en agua por 2 minutos

Agrega los tomates a las zanahorias y la porción de apio.

Deja hervir por 7 minutos

En una olla pon a hervir agua. Una vez que veas que el agua burbujea significa que ya esta hirviendo. Agrega la pasta.

Revisa el tiempo de cocción de la pasta en el empaque donde venía. Por lo general cuando se trata de pasta integran o de arroz y quinoa el tiempo de cocción es un poco mayor. La pasta de garbanzo se cuece más rápido.

Una vez que la pasta este al dente tira el agua y vuelve a colocar en la olla.

Tras 7 minutos aproximadamente tus vegetales ya deben estar cocidos.

Coloca los vegetales en la licuadora junto con el ajo y licúa muy bien hasta conseguir una mezcla homogénea.

Coloca el aceite de oliva sobre una sartén

Agrega la mezcla de hierva italianas y sal al gusto. Yo utilice 1/2 cdta de sal

Deja hervir la salsa de 3 a 5 minutos.

Vierte la salsa a la pasta y mezcla.

Agrega el queso parmesano y mezcla de nuevo.