This post is also available in: Español
This turkey is perfect for beginners! it is made with few ingredients and is very simple to make. It is tender and juicy, baked, without using too much fat. This turkey marinaded in orange juicy can be stuffed if you wish. Also in another recipe, I teach you how to make gravy from scratch with a super easy recipe.
To be honest I have two favorite recipes for Juicy and Tender Baked Turkey. This turkey with orange is one of my favorites. It is a very easy Turkey to prepare and with the tricks that I teach you you can have it ready in half the baking time.
I really like the flavor of this Orange Turkey because I add ginger which gives it a delicious flavor, as well as soy sauce, garlic and other simple and inexpensive spices that you surely have at home. The truth is that it is a very easy recipe to prepare Baked Turkey for Christmas and Thanksgiving. I also invite you to visit these other Juicy and Tender Turkey recipes:
Turkey with white wine and fruit juice
How long should I bake a Turkey
One of the most frequently asked questions when preparing a turkey is how long should I cook a turkey? It is very important that you keep the label of the turkey to see how much it weighs in kilograms or pounds, the cooking time will depend on that. Look here I share the cooking time if you are going to cover it with aluminum foil. The truth is, I recommend cooking the turkey in special bags to bake the turkey in the oven. They are very practical, they help you to marinate it right there without making a mess in the refrigerator and it cooks in half the time.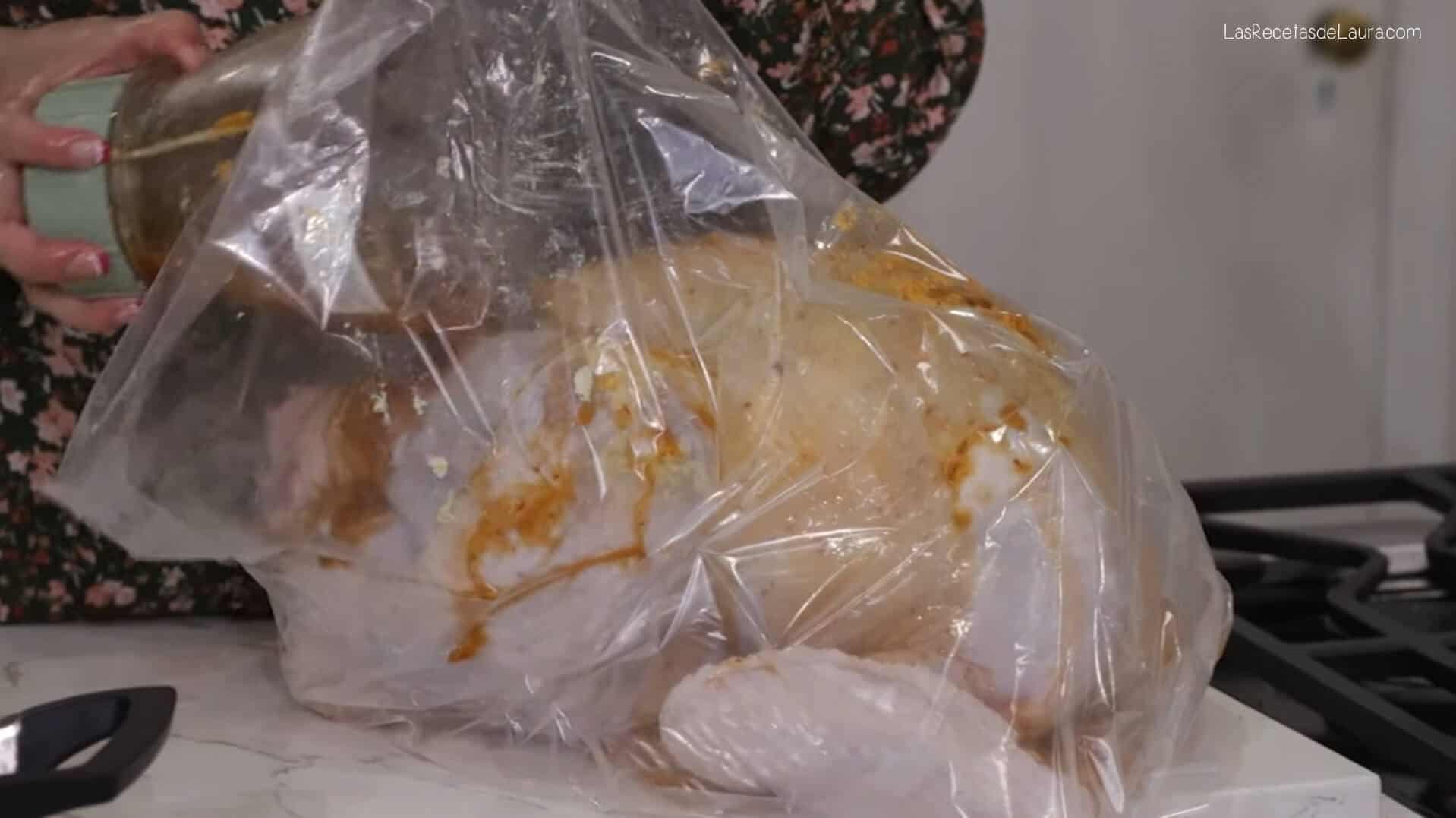 Time to bake a juicy and tender turkey in the oven:
From 5 to 7 kilos: 3 hours to 3 hours 45 minutes if not filled, 3:45 to 4:15 hours if filled
De 7 to 8 kilos: 3:45 hours a 4:15 hours when not filled o 4:00 a 4:30 hour with filling.
7 to 8 kilos: 3:45 hours to 4:15 hours without filling or 4:00 to 4:30 hours with filling.
From 8 to 11 kilos: 4:15 to 5:00 hours without filling or 4:30 to 5:15 hours with filling.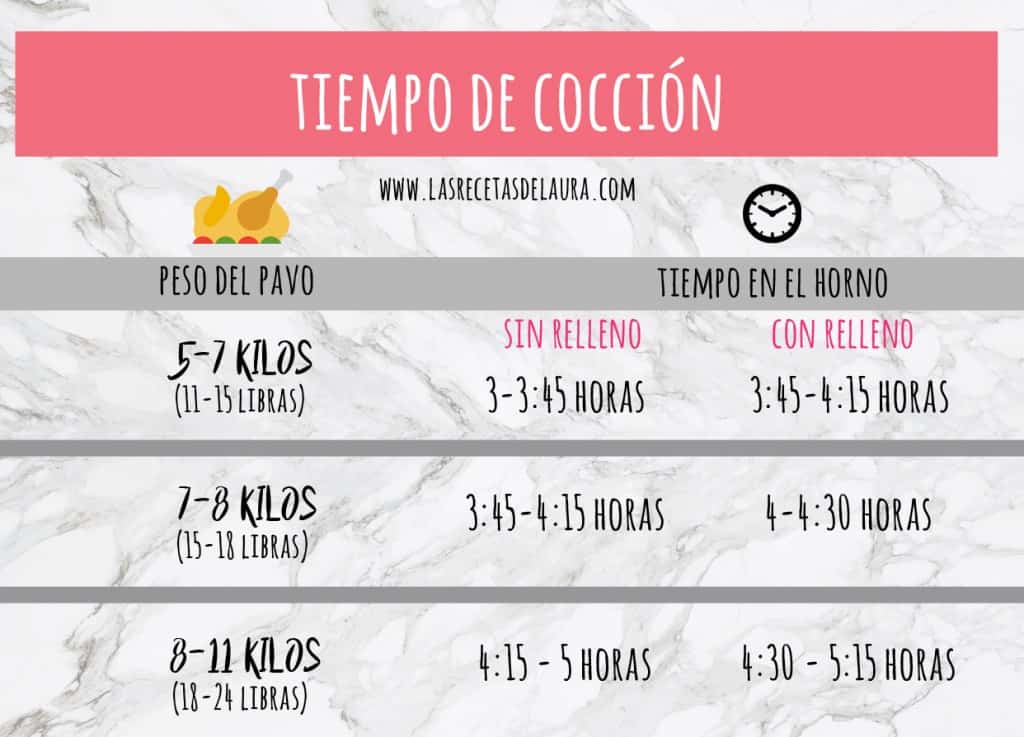 Time to bake a juicy, tender bagged turkey:
From 5 to 7 kilos: 2 hours to 2:15 hours without filling or 2:30 to 2:45 with filling
From 7 to 8 kilos: 2:15 to 2:30 hours without filling or 2:45 to 3:00 hours with filling.
From 8 to 11 kilos: 2:30 to 3:00 hours without filling or 3:00 to 3:30 hours with filling.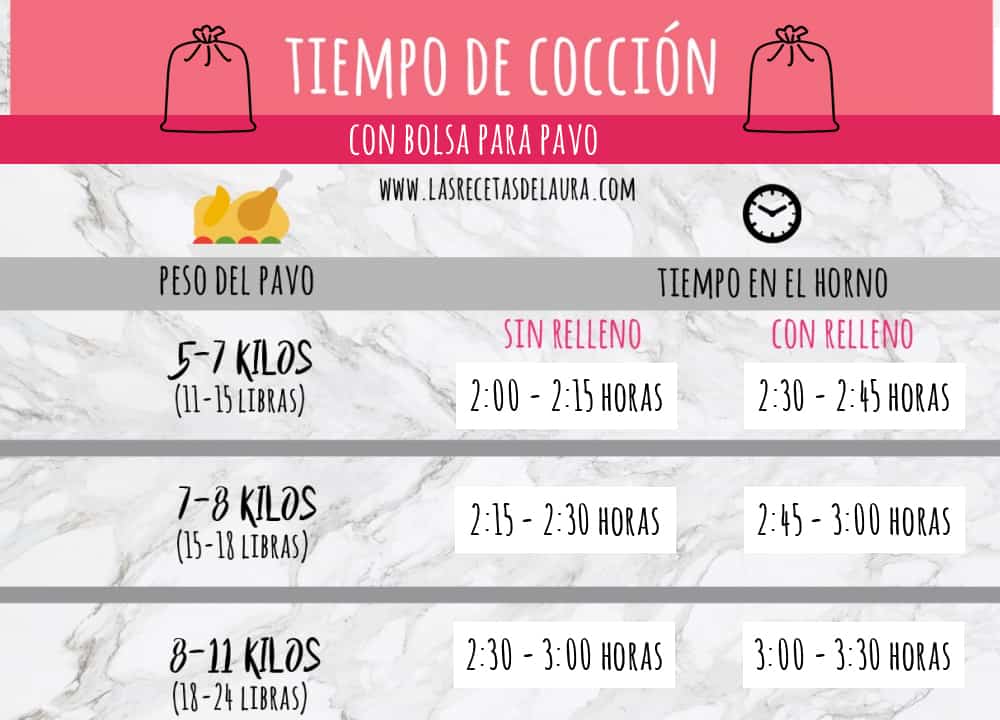 If your turkey comes frozen consider defrosting the turkey 3 days before. Lower it to the refrigerator and place it on a tray and leave it there for 3 days, there it will defrost naturally.
If you need to defrost a turkey or are looking to defrost a turkey quickly. Put room temperature water in your sink, covered well, and place the turkey there. Change the water every 30 minutes. It is important that you do not do it with hot water. When it is thawing open the bag and let the water enter the cavity of the turkey, usually you will find pieces of ice there, try to remove them.
I am not a fan of injecting turkey because it can form small bags of liquid, the truth is that marinating the turkey from one night before baking will get a much more flavorful effect than injecting.. 
To marinate the turkey, prepare the recipe that I share below and then put it in the bag and close. If you are going to marinate it on a tray, remember to turn it whenever you can. If you do it in the bag it is much simpler, you just flip the bag and blame for much less space in the refrigerator.
You can find the loin or leg much faster. Baking bags are found in all supermarkets and they also help you cook the loin or leg much faster.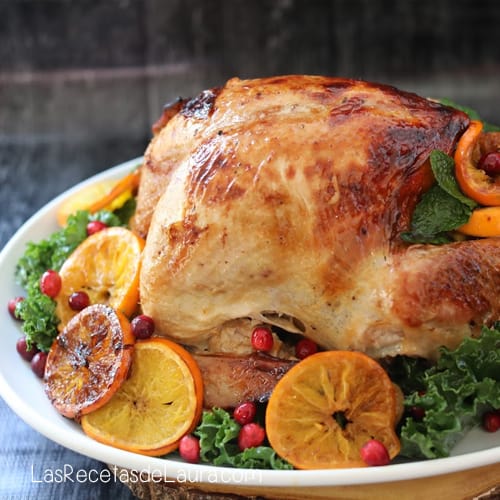 Ingredients
2

cups of

orange juice

¼

cup

soy sauce

2

tbsp of

salt

1

tbsp of

pepper

2

garlic cloves

½

cup of

white vinegar

½

cup of

melted butter

1

tbsp of

ginger

½

orange peel

1

tbsp of

fluor

Turkey

Oven Bag
Instructions
In the blender add the juice, soy sauce, salt, pepper, garlic, vinegar, sugar, butter, ginger and orange peel

Tie off the legs of your turkey and remove the insides.

Put the tablespoon of flour into the bag and spread it all over the place.

Put the turkey in the bag

Add the mixture and close the bag.

Put it to marinate in the fridge in a tray and turn it constantly for a day or as long as you have.

When you are going to put it in the oven, make some small openings in the bag so that the air can escape.

Bake at 360ºF -180º C for the time that comes in the tables that I leave you up here.

When it is almost time to take it out of the oven, take it out 15 or 30 minutes before and remove the bag, put it back in the oven to toast it on the outside.

Serve and decorate with oranges and base lettuce leaves. Bathe with the gravy.
Latest posts by Laura Muller
(see all)