This post is also available in: Español
If you want to have delicious, tender, and juicy meat, this homemade meat tenderizer is just what you need. This natural meat softener is made from a single ingredient, papaya. Papaya contains natural enzymes that break down the protein in meat, making it the perfect meat tenderizer. I use this natural meat tenderizer made with papaya, especially when making arrachera. After using this natural tenderizer your meat will be so juicy and tender that it almost will falls apart.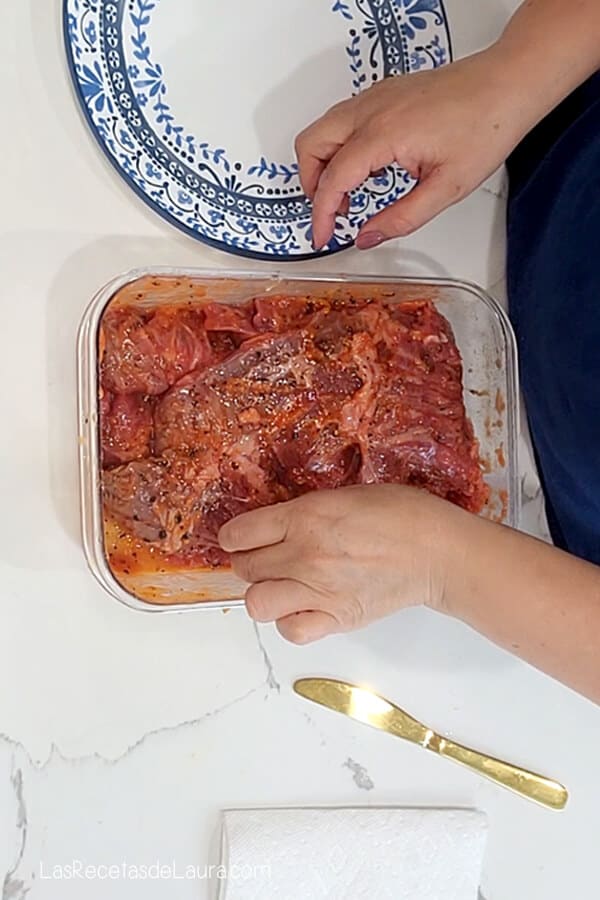 BEST MEAT TENDERIZER
There are several types and techniques to tenderize meat. From beating with a meat tenderizer hammer to tenderize it to commercial products that are sold as a tenderizer powder ready to just spread over the meat and tenderize. Commercial meat tenderizer products sold in stores contain papain, monosodium glutamate, iodized salt, potassium chloride, maltodextrin, sodium citrate. As can you see many ingredients that are listed are not exactly the healthiest option, starting with monosodium glutamate MSG. That is why I always consider that a natural tenderizer is the best option to achieve tender and juicy meat.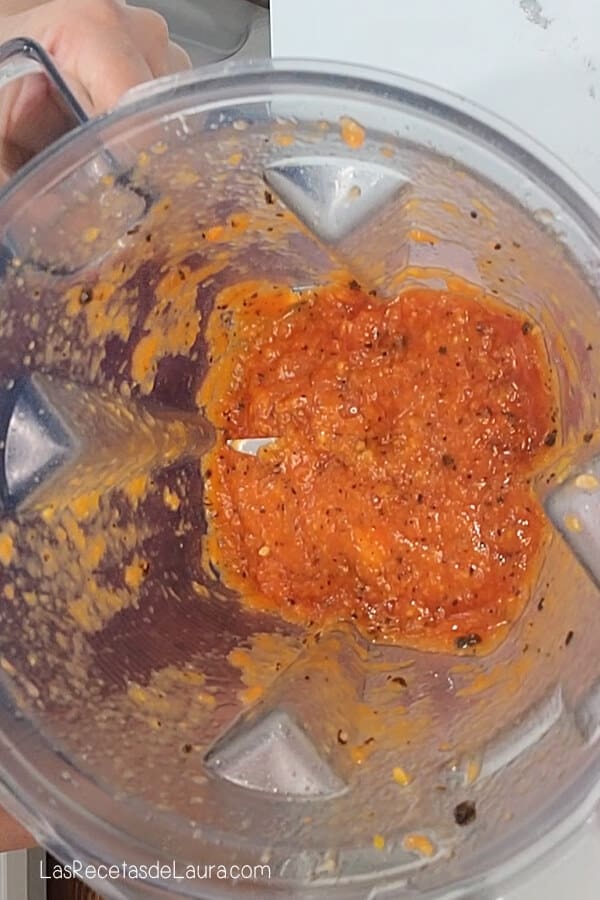 Natural tenderizer
The best natural homemade meat tenderizer is papaya. Using papaya as a natural tenderizer is easy and affordable. If you don't like papaya, don't worry, the truth is that meat does not absorb the papaya at all. Pineapple is also used as a natural meat tenderizer. I just feel that the pineapple flavor penetrates the meat while the papaya flavor remains more neutral.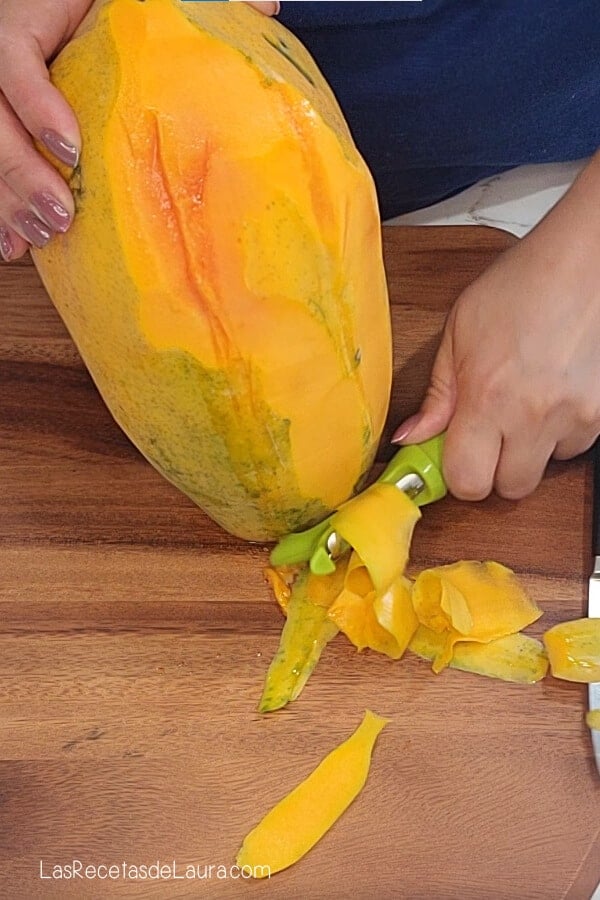 HOW TO MAKE YOUR OWN MEAT TENDERIZER RECIPE
Tenderizing meat with papaya is very simple and is a natural and healthy way to create your own meat tenderizer at home. This is the perfect tenderizer marinade.
How to tenderize meat with papaya is very simple. Start by removing the skin of the papaya with a knife or a fruit or potato peeler. It is important to remove the skin. The papaya skin can make the meat bitter.
Remove the skin from the papaya
Cut the papaya into chunks
Place 1 cup of papaya with seeds in the blender for every half kilogram or 2 pounds of meat that you want to tenderize
Blend well until the papaya is made into a kind of puree
Go through a sieve to remove the papaya seed remains (this is optional, you can leave it, it's just that it is difficult afterwards to remove the seed remains from the meat, I have roasted it with the seed is ok. In the process the seeds falls off or is cooked)
Bathe the meat with the papaya pulp and spread well over your meat, flank steak, roast beef or beef steak.
Leave the papaya to marinate for about an hour in the refrigerator.
Rinse and season the meat to prepare.
Check out this amazing marinade for your next carne asada or arrachera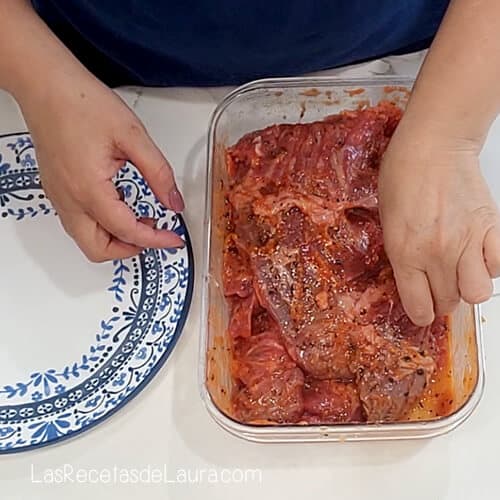 How to apply meat tenderizer
If you use my recipe for natural meat tenderizer made with papaya, you just have to spread the ground papaya well over the meat and mix from time to time to ensure that all the meat has a little papaya pulp.
If you use powdered meat tenderizer, just spread over the meat as if you were adding salt and let the meat rest for as long as the instructions of your tenderizer indicate.
What are the enzymes that tenderize meat
Red meat is softened thanks to the work done in it by papain derived from papaya or bromelain derived from pineapple.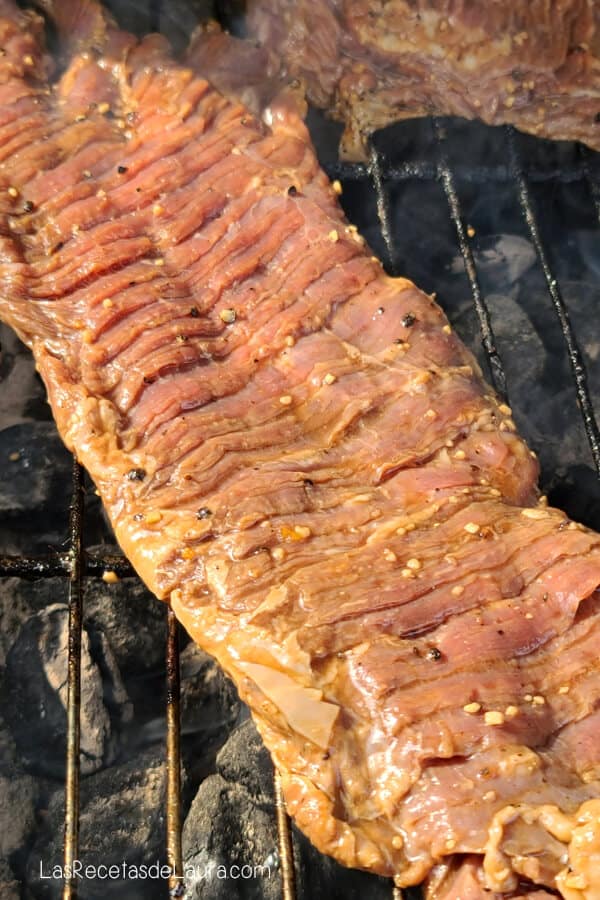 When should I use meat Tenderizer
When the meat you are using comes from a part of the cow that has a lot of muscle on it tends to be tough. Tenderizer will help you to make the meat tender and juicy. Much easier to cook and much easy to chew. Skirt steak used for arrachera is a good example. You definitely need to use a tenderizer if you want to grill skirt steak.
How long should the meat be tenderized
The time may vary depending on the product you are using. Commercial powdered tenderizers usually need to be sprinkled on the meat and let it rest for one to two hours. If using a natural meat tenderizer such as papaya or pineapple, an hour may be enough. If you want the meat to be even softer, you can let the natural enzymes do their work for a longer time and leave your meat in the papaya puree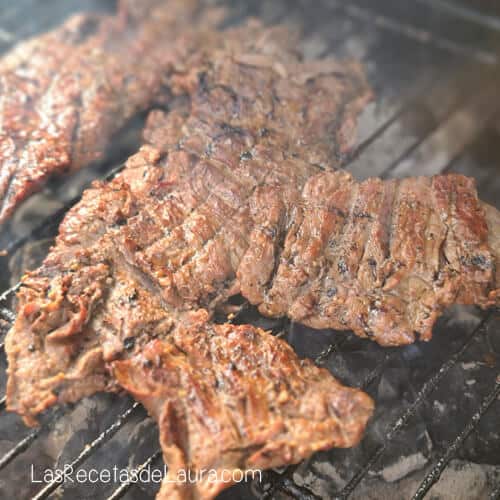 Open the pantry that you have you all you need for an amazing carne asada marinade

Click for recipe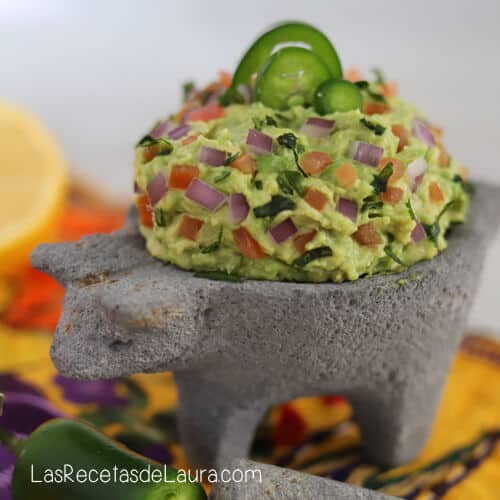 Holly Guac! I will give you some great tips to prevent the avocado from going brown so click here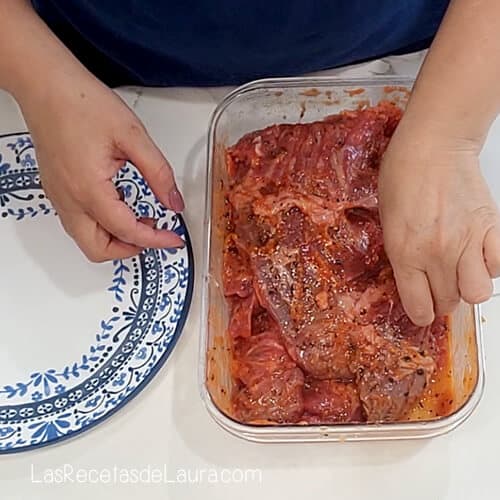 Ingredients
1

cup

Papaya

for every half kilogram or 2 pounds of meat that you want to tenderize
Instructions
Remove the skin from the papaya

Cut the papaya into chunks

Place 1 cup of papaya with seeds in the blender for every half kilogram or 2 pounds of meat that you want to tenderize

Blend well until the papaya is made into a kind of puree

Go through a sieve to remove the papaya seed remains (this is optional, you can leave it, it's just that it is difficult afterwards to remove the seed remains from the meat, I have roasted it with the seed is ok. In the process the seeds falls off or is cooked)

Bathe the meat with the papaya pulp and spread well over your meat, flank steak, roast beef or beef steak.

Leave the papaya to marinate for about an hour in the refrigerator.

Rinse and season the meat to prepare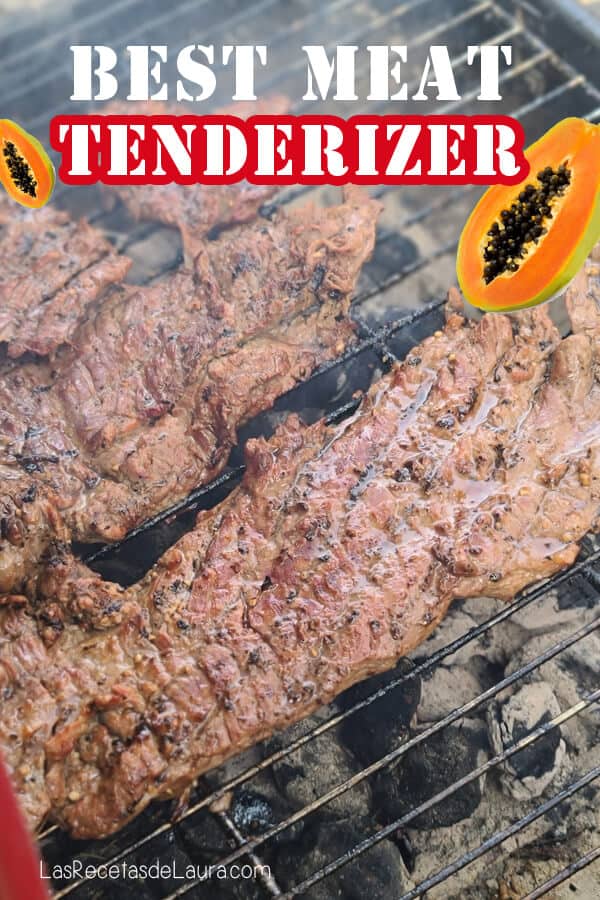 Latest posts by Laura Muller
(see all)