This post is also available in: Español
These COLON CLEANSE SMOOTHIES are three detox smoothies for a deep colon cleanse in addition to helping to detoxify the intestine. This is an ideal home remedy for people who suffer from gastrointestinal diseases such as colitis, bloating, indigestion problems, constipation, gases, colon inflammation, and other issues related to the colon and colitis.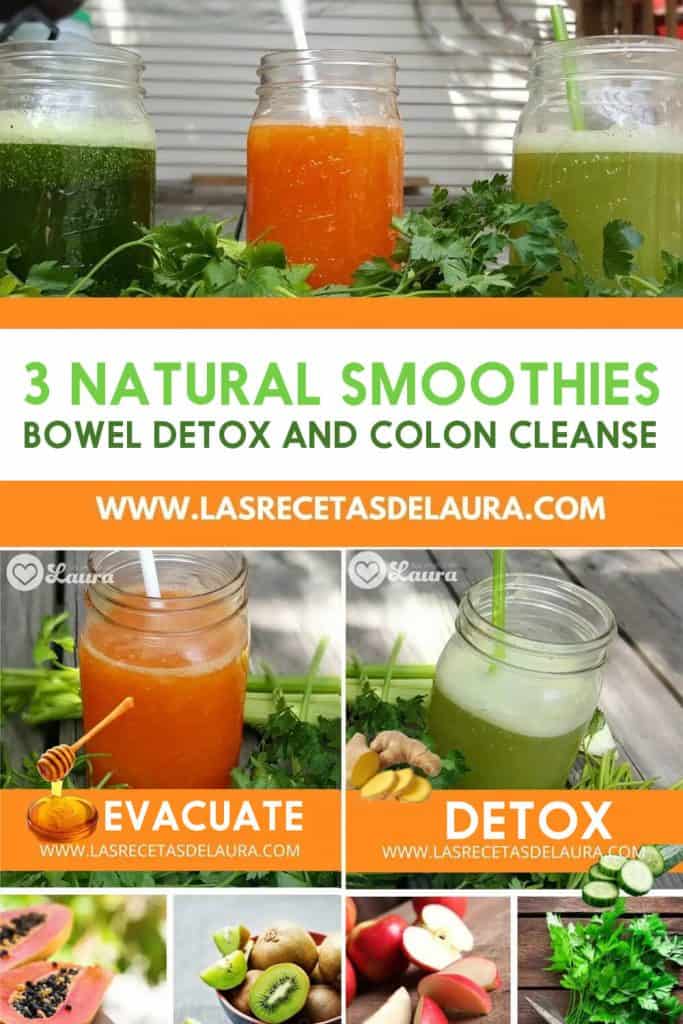 These colon cleanse smoothies options to cleanse the stomach, remove the gauze and finally be able to go to the bathroom are a perfect substitute for commercial fibers. Remember that buying artificial fibers to be able to go to the bathroom and evacuate can cause a lazy intestine. There are many people who, by consuming commercial fibers, now depend totally on them to be able to evacuate.
AT WHAT TIME SHOULD I DRINK A GREEN sMOOTHIE TO EVACUATE?
It should preferably be taken early in the morning, before eating. It also depends on the effect it will have on you. There are some smoothies, like my recipe for papaya smoothie that can cause you to have a bowel movement in about fifteen minutes. Learn how your body reacts to these smoothies so that they won't take you by surprise. Cleaning the colon is something that we are going to achieve little by little with these delicious options of natural smoothies to detoxify and evacuate.
NATURAL SMOOTHIE TO OXYGENATE THE BODY AND STRENGTHEN THE RESPIRATORY SYSTEM
This green broccoli smoothie will help you strengthen the respiratory system and oxygenate your body.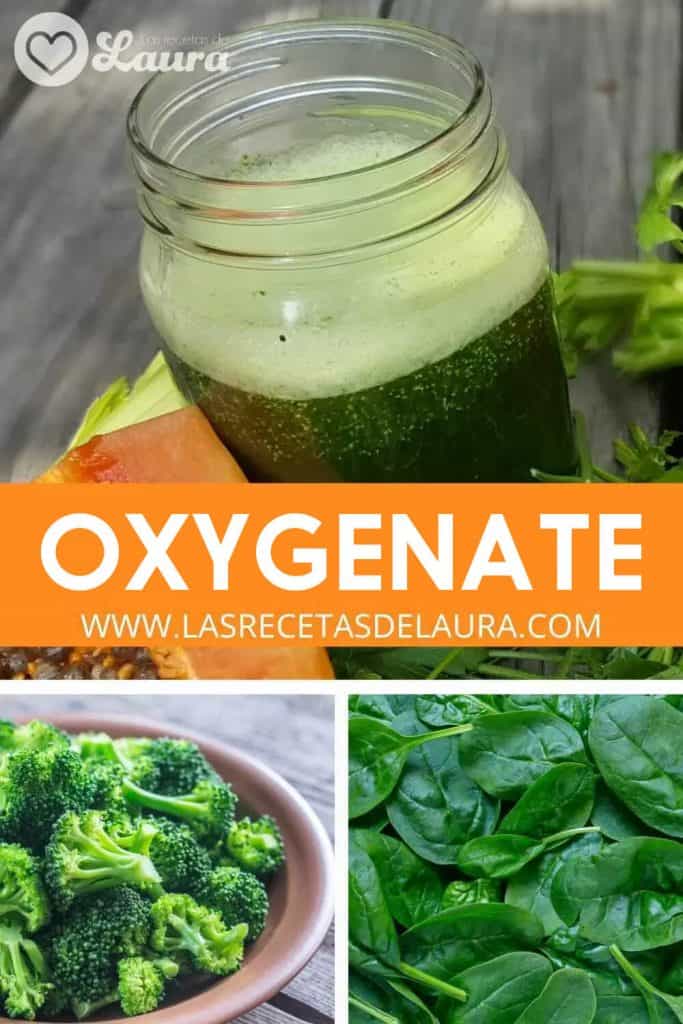 Why is it important to oxygenate your body? The reason is healthy blood. Blood transports oxygen to all your organs. If you have good oxygenation, you stay healthy and full of life, including your intestine! Do you want the secret of eternal youth? Oxygenate! Do you want to cleanse the colon? give your organism a reset and nourish it from head to toe.
INGREDIENTS FOR A GREEN SMOOTHIE TO OXYGENATE YOUR BODY
4 broccoli branches
10 spinach leaves or 30 baby spinach leaves
1 liter of water or 4 cups of water
HOW PREPARED GREEN SMOOTHIE T=TO OXYGENATE THE BODY?
Place the 4 broccoli trees, the 10 spinach leaves and 4 cups of water in a blender and blend until all the ingredients have vanished and become liquid. If you have a Vitamix it is ideal.
The base of this smoothie is broccoli, which is an anti-cancer food, spinach has iron and fiber, which will help you promote a bowel movement to be able to evacuate.
HOW LONG SHOULD I TAKE THE GREEN SMOOTHIE TO OXYGEN MY BODY?
You can take twice o three times peer week, although if you use it to go to the bathroom, I recommend it on an empty stomach. I have many smoothies recipes for bowel movement and detox. I always recommend to have different smoothies during the week so you can give different nutrients to your boy. Don't have them daily. It is way too much fiber and could make you feel bloat after a while.
NATURAL JUICE OF APPLE, CELERY, PARSLEY AND GINGER TO DEFLAMM THE BODY AND DETOXIFY
This green juice is super fresh and delicious. A tremendous shot of vitamins to energize your body.
This smoothie can also be made as juice. It is ideal to give to your family at any time. What I love is that this is super nutritious and wonderfully cool fresh water for summer days. This green juice recipe can be used as daily water. ​​​​​​​
I know that many people have a hard time drinking water. They do not tolerate the taste of natural water. Well, this recipe for a green juice with apple can be taken at any time of day to replace your daily water intake.
Rich in diuretics to help reduce inflammation and prevent fluid retention, it also provides vitamins and fiber.
WHAT INGREDIENTS DO I NEED?
1 piece of ginger about the size of the tip of your thumb.
2 sticks of celery
1 tbsp fresh parsley
1 red apple
½ cucumber
1 liter of water or 4 cups of water
It is like fresh water! Remember that if your children don't like it so loaded, you can dilute it with more water or use less parsley.
NATURAL HOME REMEDY TO EVACUATE / BOWL MOVEMENT
The third of these juices is special to combat constipation and cleanse the colon. The taste is sweet so it is ideal for children who suffer from constipation. This is a natural and safe remedy for cleaning the colon and being able to evacuate and can be taken at any age (baby, consult your pediatrician)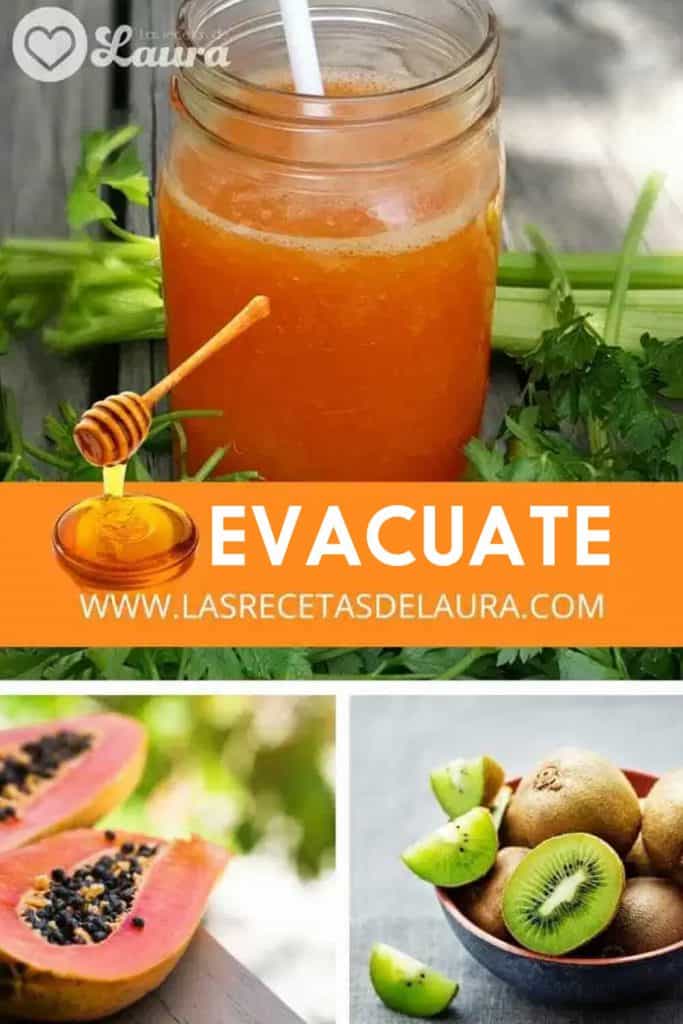 WHAT INGREDIENTS DO I NEED TO MAKE A NATURAL SMOOTHIE TO EVACUATE?
1 kiwi
½ cup of papaya
1 tbsp honey
4 cups of water
You can also use almond milk and it is delicious. A natural and home remedy with a very mild laxative effect.
Another option to combat constipation is my smoothie with prune, here is the link so you can see the recipe: Flax Seed and Plum Smoothie natural remedie for constipation
POWERFUL BOWEL MOVEMENT SMOOTHIE
This is one of my most effective juices if you suffer from constipation. The best part is that it can be taken by children and it is completely natural. As if that were not enough, it helps protect bone density in addition to sending you straight to the bathroom.
See recipe for natural prune juice.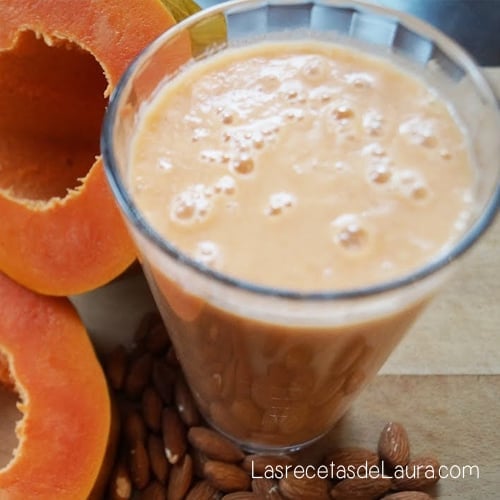 COLON CLEANSE PAPAYA SMOOTHIE
This smoothie is delicious and an effective digestion accelerator. Perfect for people who want to cleanse the colon and accelerate bowel movement.
See recipe for papaya smoothie here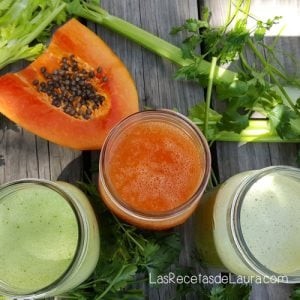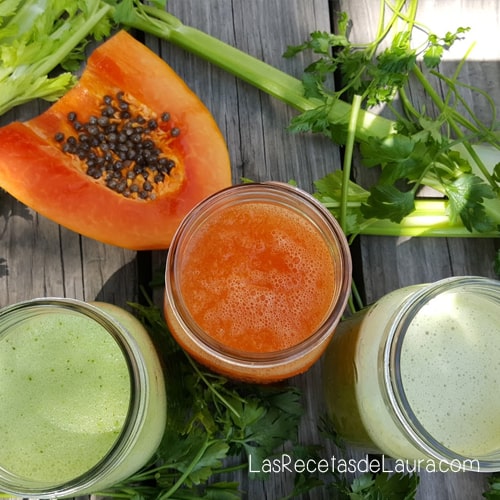 Ingredients
Smoothie #1 – Oxygenate
4

broccoli branches

10

spinach leaves

1

liter of

water
Smoothie #2 – DETOX
1

piece of

ginger

2

celery sticks

1

tbsp of

fresh parsley

1

red apple

½

cucumber

1

liter of

water
Smoothie #3 – Evacuate
1

kiwi

½

cup of

papaya

1

tbsp of

honey

4

cups of

water
Latest posts by Laura Muller
(see all)